Stainless steel 304 multilayer fine filter press for sale
2020-06-29 17:13:27
Stainless steel 304 multilayer fine filter press for sale

The stainless steel 304 multilayer filter is for fine filtering. It's surface is polished, has seals, and normally used together with a feeding pump(full stainless steel feeding pump also provided), so it's normally used for following industries: laboratory, fine chemicals, medicine, food, chemical etc.
This stainless steel 304 filter press is very easy operation. When it was filled with raw material by pump, you only need to turn the handle to compress the chambers. Under the feeding pressure, the filtration pass through the filter media the discharged from the outlet. The solid will becomes to filter cakes. The multilayer fine filter press for sale is a plate and frame type filter press, it can used with filter paper if you want, which can improve filtration accuracy in some industries.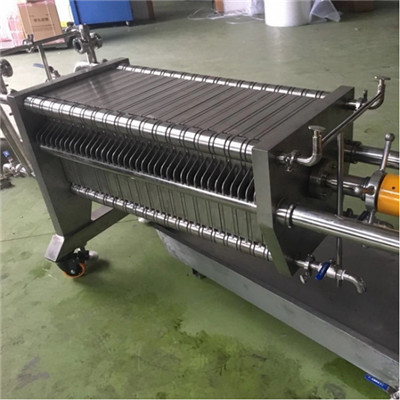 1. Material: structure-S.S304; plate-S.S304(S.S 316 or PP for options)
2. Seal material: white silicone rubber. Pressure: 0.4MPa, temperature ≤120℃
3. Squeezing method: screw/manual hydraulic( others: manual jack / automatic hydraulic etc.)
4. Filtering material: various filter cloth, filter paper, filter membrane etc...
5. Filter precision: from 200 mesh to 0.22μm

The working principle of stainless steel 304 multilayer fine filter press is: suspended solution is pumped into filter chamber, under the feeding pressure, the filter pass through the filter media and then discharged from the outlet. The solid will becomes to filter cakes. Thus realize solid liquid separation.
The material and structure of stainless steel 304 filter press determines it has the following advantages:
1) The filter is made of S.S.304 or S.S.316L, which are features of corrosion-resistant and long life-span.
2) The filter plates use screw thread structure. It can change filtering media(if uses filter membrane, it can even remove the bacteria.) according to your material and your technical requirements ( primary filtration/medial fine filtration/fine filtration).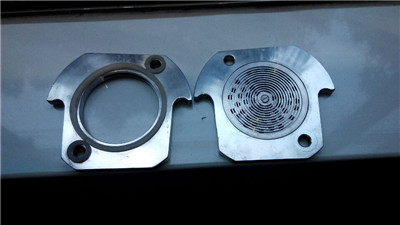 3) The layers can be added or decreased to your actual capacity.
4) The filter works under pressure with leakage and the filtrate is very clean. It can be used as multilevel filtering devices: the first level uses rough filtering media; the second level can use fine medias, so that it can improve the filtering effect and efficiency.
5) All seals are made of silica rubber, which can endure high temperature and no toxicity, no leakage.
6) The automatic flow returning device also can be customized according to your needs. When pump stops, open the return valve, all sediment will be discharged automatically ( beside have the air discharging function), and at the same time, it will be backwashed by clean water via the return pipe. It's very easy for operation.

We have our own technical team, can provide customized service for you. All the type of our filter press can be customized. If you need a stainless steel filter press with a large capacity, but don't want to use a full stainless steel filter press is ok, we can provide a filter press covered with a layer of stainless steel for you. If you have any idea about filter press, maybe we can discuss it together.