China filter press for lime mud
2020-06-28 17:23:51
China filter press for lime mud
The filter press for lime mud can be divided into plate and frame type and recessed plate and are used for soild-liquid separation of various suspending liquid in intermittent pressure filtration. Filter press are pressed by pressing devices and suspending liquid is pumped into the filter chamber. Solid part and liquid are separated through filter cloth. The products are simply in structure but good in separating effects, convenient in use.

China filter press plays an important role in the lime mud process. When we use the filter press to process limestone, we need to press the filter press first.

The feeding pump conveys the lime mud into filter press and squeezing the water. If you see less water from the tap of the filter press, you can remove the filter cake. The cake discharge can be divided into two methods, one is manual discharge, another one is automatic discharge. The manual discharge is suitable for small capacity work, without many plate, automatic discharge is used for big and large plate, applicable to some companies that have high requirements for automation. The cake after discharging, you can use a belt conveyor or a trolley transport it, it depends on your work place.
The working principle of China filter press for sale is: when the mixed liquid flows through the filter cloth, the solid will be trapped on the filter cloth and accumulated to form into the cake. The clean liquid, which has not included the solid, will permeate from the filter cloth.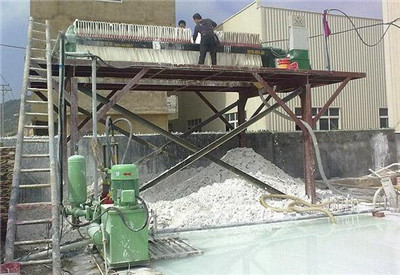 Normally, if you have no requirements for moisture content, ordinary filter presses can meet your needs, reasonable price and good performance. If you have higher requirements for moisture content, high pressure filter presses or membrane filter presses are recommended. If you don't know how to choose the filter press, tell us your requirements, your filtering material, output per hour or per day, the solid content(if you don't know the solid content, showing us some photos about your filtering material also helpful) , we will recommend a suitable one for you, our mailbox is info@gaodetec.com.