GM2000 15-20m3/h CLC foam concrete mixer, production capacity of this foam concrete mixer is 15-20m3/h, output volume is 1500L, the GM2000 foam concrete mixer specially designed for the foam concrete mixer is an advanced lightweight insulation material. And the material has many closed holes. With the help of the foaming system of the foaming machine, the foaming agent can foam fully and mechanically. Then mix the foam and the mud evenly. Next, the mixture will be drawn from the pumping system, cast in place or molded. After natural conservation, foam concrete is formed. Professional foam machine manufacturer Gaodetec can provide you with high-quality foam mixers.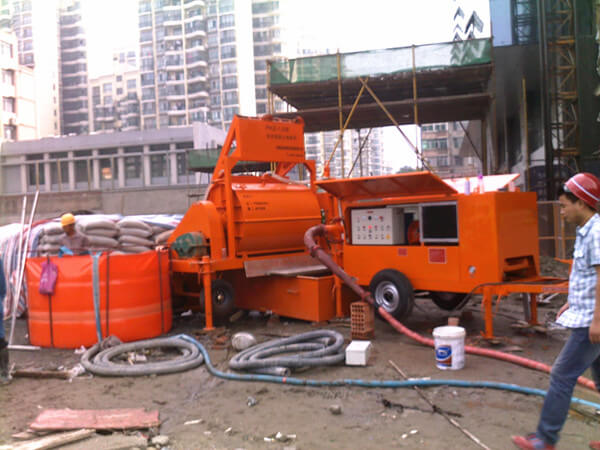 Of course, foam concrete has the advantages of light weight and environmental protection, and is widely used in the field of construction. At the same time, foam concrete has high fire resistance, high insulation, low density and high strength and water resistance characteristics. In addition, foaming concrete has a long service life and is easy to maintain. However, it can only be made with a concrete foaming machine.
Foam concrete mixer, also known as concrete foaming machine or foam mixer, is a new advanced concrete mixer designed specifically for foam concrete. The design of the concrete foam also has the advantages of high stirring quality, stable performance, low energy consumption, good sealing, short discharge time. As a professional foam mixer manufacturer, Gaodetec is absolutely available to provide you with high-quality foam mixers.
On the basis of taking advance of the principle of the structure from advanced facility abroad and seek the user's advice widely. According to China's actual situation, rely on our rich experience in design and manufacturing the hydraulic equipment, we take the innovation and have a distinct personality characteristics as well as completely independent intellectual property rights.
The use of double cylinder hydraulic pump water bodies push mud, exports of high pressure, can meet the needs of high-rise ratio of the various ingredients used in automatic control, The density foam cement adjust easily selected using the homemade quality matching components, reliable guaranteed after-sales service can use the high-quality home-foaming agent, lower construction cost with running. Round and Universal Wheels, Mobile and place convenient and flexible.