GZ-3 Dry mix shotcrete machine is small-sized portable shotcrete machine for the dry spraying process. We can supply dry mix shotcrete machine with factory price for customer which comes from all over the world. Our shotcrete machines have been exported to the UAE, Nepal, USA, Singapore, Canada, Indonesia, Malaysia, Pakistan, Korea and Kuwait.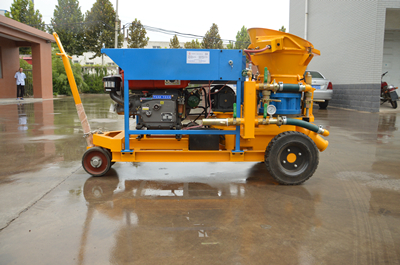 GZ-3 dry shotcrete machine is available in following versions:
Basic: electric drive can be combined with tyre chassis
Extended (optional): air motor or diesel drive combined skid or rail-wheel dry mix shotcrete machine.
According to different spraying process, shotcrete machine is divided into wet mix shotcrete machine and dry mix shotcrete machine.
Wet mix shotcrete machine process: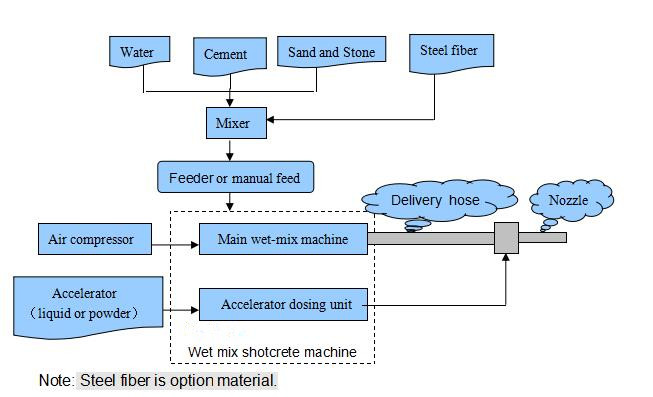 Dry mix shotcrete machine process: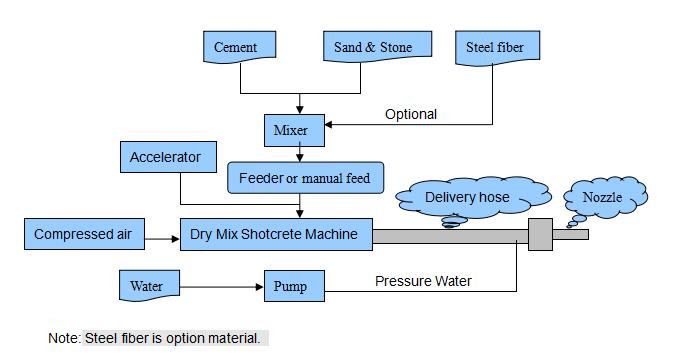 Dry mix shotcrete machine principle:
1. The mixing material of ingredients mixer discharge mouth (or artificial mixing and feeding) after vibrating screen mesh for the jet in the hopper.
2. Feed by dial direct dial into rotor cavity, with the rotor vortex to the discharge port.
3. Here from the gas chamber into the air, blow the material into the discharge elbow, introduced by cyclone another wind pressure, the state of long spiral wind blows away the supplies, acceleration, and make it spin, plankton, into the feeding tube.
4. To shower and then add a small amount of water spray (tide) or liquid accelerator (wet) injection.

Dry mix shotcrete machine composition:
1. The driving gear (main motor, reducer, etc.).
2. The rotor assembly (turn daughter, cavity, the rotor plate, etc.).
5. Electrical control system.
6. Walking system.