GGP500/2000/165H-E Grout mixing and pumping system is a combination of automatically batching weight system, PLC control system, mixer, agitator and grouting pump in one plant system. The GGP500/2000/165H-E grout plant system is mainly used to mix cement, bentonite slurry for grout and backfill grout injection in ground and underground construction or TBM tunnel construction, such as highways, railways, water and electricity, construction, mining etc. Compared with our company's conventional grouting plant system,engineers changed the traditional operation mode and set up two kinds of material output pipes: connecting directly to the hose pump for direct operation, connecting to the water pump for secondary processing. Most importantly, the grout equipment has added weighing modules and PLC control system, which can be started with one button to achieve automatic operation.
GGP500/2000/165H-E Grout mixing and pumping system is with weigh 200Kg, mixer volume 500L, agitator volume 2000L, hose pump displacement 165L/min, it has large volume suitable for large projects. If you have cooperation intentions in mixing, grouting and grouting technology, Gaodetec will be your best choice. We will sincerely welcome to cooperate with you with high quality products, best prices, and considerate service!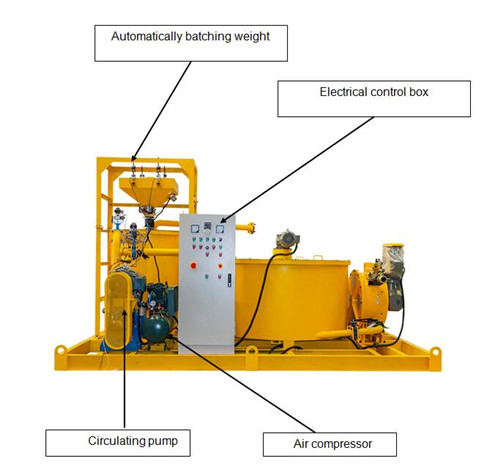 The superiority of Gaodetec lies in producing a variety of standard and customized grouting mixing and pumping system to handle a variety of materials and capacities from 10L/min to 1700L/min, and pressure from 10bar to 500bar. According to customer requirements, the high pressure pump can be up to 500 bar. The power system of mixing and pumping system can be diesel engine or electric motor. The auxiliary system can be manual control, hydraulic control, or pneumatic control. Regarding as the choice of power supply, we can customize production according to your needs.