GGP400/700/320/100TPI-E Colloidal grout plant is a combination of mixer, agitator and slurry grout pump in one base frame. Colloidal grout mixer, agitator and pump are mounted on a single skid (transportable by pick-up truck) for quick, easy set-up and immediate operation. Their functions include independent colloidal grout mixer, agitators, grout pump and custom tunnel grouting systems for TBM and container grouting mixing systems. GGP400/700/320/100TPI-E colloidal grout mixing plant combines the latest advances in colloidal grouting in a compact design. It is mainly used to be made bentonite slurry, cement slurry, etc., in the application tunnelling, well drilling, geotechnical, construction, mining, municipal, restoration, highway and other ground and underground construction.

Main Component of GGP400/700/320/100TPI-E Colloidal grout plant: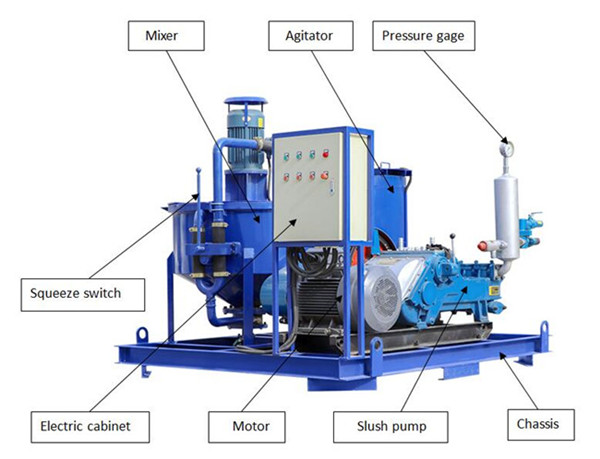 High speed vortex mixer ensures mix quickly and evenly. Water, cement or bentonite is quickly mixed into a homogeneous slurry. Then the mixed slurry was delivered to the agitator. Grout pump injects from the agitator drum (storage tank). This ensures a continuous mixing and grouting operations. The grouting plant is driven by an electric motor. Grouting pressure and displacement is adjustable.
Water and solid materials are pumped through a high-speed diffused pump that rotates at speeds of up to 1,500 RPM to prevent flocculation and achieve full particle wetting. The high shear of the colloidal grout unit significantly reduces mixing time and enhances sensing with the unique electric bridge break device. These high-shear colloidmixers have shown the advantage of increasing the apparent fluidity of the mud mixture by 20% compared to paddle mixers, which is an important advantage for dams, rocks and soil grouts, in which case it is necessary to penetrate dense formations. For very sensitive applications, such as rear-sheeting slurry, an efficient colloidal mixer can reduce the weight ratio of water to cement to 0.35, which results in very high strength grout storsionals with virtually no oozing water release. After mixing, the material is transferred to a variable speed, efficient, agitated holding tank that maintains uniform consistency when preparing for pumping.

Model Definition of GGP400/700/320/100TPI-E Colloidal grout plant: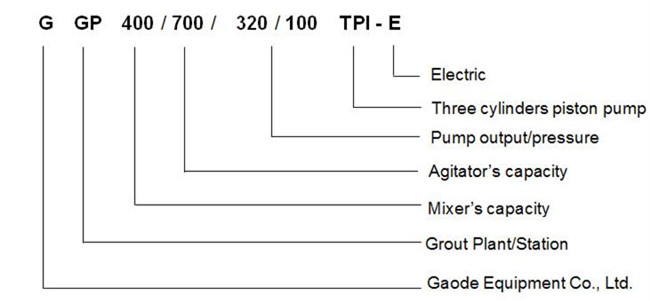 Details of GGP400/700/320/100TPI-E Colloidal grout plant: