Small concrete pump machine price to Manila
2019-10-30 19:04:21
Small concrete pump machine price to Manila
Small concrete pump machine price is a set of mechanical, electrical and hydraulic technology as one, with reliable performance of smooth operation and strong pumping capability. Reliability and stability is guaranteed by automatic engine regulation. Small concrete pump machine can realize the transportation of fine stone concrete and mortar for high-rise buildings. Manila concrete pump price equipped with an automatic centralized lubrication system to ensure the life of the rotating parts. Hydraulic oil cooling adopts advanced forced air cooling system, which does not need to be connected to water source and is easy to use.
Concrete Pump is applied to high-rise building ash mortar and fine stone concrete transportation, grouting of secondary column, reservoir, slope protection hydropower station, port and dock pressure grouting. It is used for foundation treatment of weak foundation, reinforcement grouting, spray anchor support for backfill grouting river channel slope in tunnel, subway and mine construction.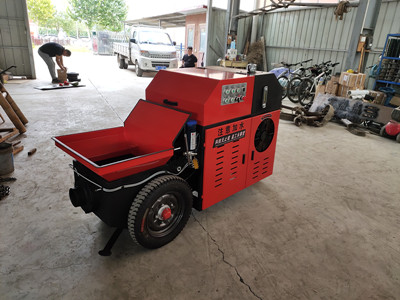 1 The use of pump power is very small, only 7.5kw or 11kw, in the case of no power supply with only a minimum of the generator can work.
2 The smallest concrete pump in China, the only choice for many narrow construction environment.
3 Pump light weight, easy to move.
4 Pump configuration high, full hydraulic operation, stable performance, compact structure, low failure rate, long life.
5 Pump affordable, micro-mortar pump, micro-fine stone concrete pump, micro- concrete pump three configurations for customers to choose.
6 The use of piston structure automatic air pressure technology, working pressure, pumping distance, high pumping height.
It is a small concrete pump in Philippines and is ideal for many narrow construction environments. The Manila small concrete pump machine price is light in weight and easy to move. High pump configuration, full hydraulic operation, stable performance, compact structure, low failure rate and long life.