Single acting hollow 100 ton hydraulic jacks automaic hydraulic lifting jacks
2020-01-13 17:45:43
Single acting hollow 100 ton hydraulic jacks automaic hydraulic lifting jack

Single acting hollow plunger hydraulic cylinder is suitable for machining, maintenance and traction work. The special design of the hollow piston rod allows the tow rod or cable to be lifted or jacked by hydraulic lifting jacks, which is usually used for backward traction and forward squeezing.
single acting hollow 100 ton hydraulic jack is e
quipped with interchangeable steel reinforced piston base, it can also be used for regular lifting operations.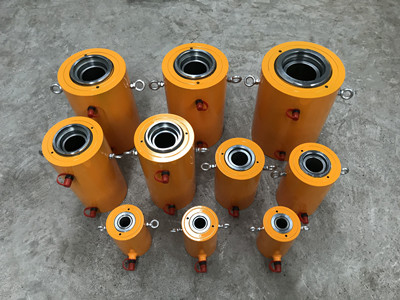 Ultra high pressure electric hydraulic pumps and automatic hydraulic lifting jacks are widely used in many industrial applications, and can also be used with many ultra high pressure hydraulic tools to achieve the functions of pulling, pushing, bending, expanding, strengthening, squeezing, etc.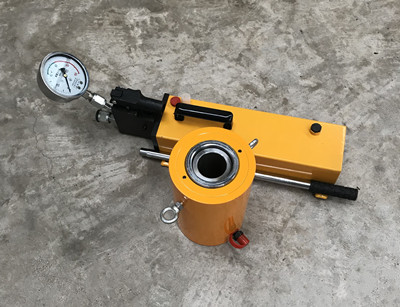 100 ton hydraulic jacks can be matched wtih a 0.75KW electric hydraulic pump, 16L oil tank.
The below are the features of electric pump station:
Two-stage design, the first stage is a gear pump, and the second stage is a booster pump, which can shorten the construction period and improve work efficiency;
The powerful induction motor can be started at full load;
Can be equipped with many ultra high pressure hydraulic tools;
Motor voltage: 220V or 380V; Two built-in safety valves, one for factory-set overload protection and the other for on-site pressure regulation.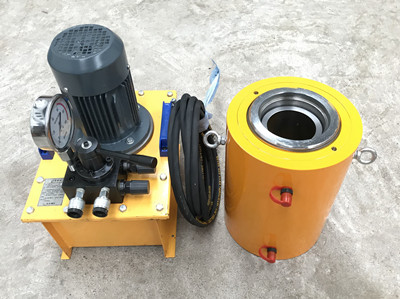 Electric hydraulic pump station also used for single acting hollow hydraulic jack, it has the following advantages:
Small size and light weight; The original imported German HAWE relief valve can adjust the pressure, accurate torque setting and high repeat accuracy.

HAWE
solenoid valve, plunger and other main components to ensure quality;
Power unit adopts industry-leading permanent magnet brushless motor design technology;
Supports the use of 2 or 4 hydraulic torque wrenches at the same time, improving work efficiency and higher tightening accuracy;
Hydraulic hoses are available in lengths of 6 meters, 9 meters, and 12 meters.