Refractory castable gunning machine for installing refractory
2019-08-15 14:24:00
Why choose refractory castable gunning machine for spraying refractory instead of dry mix shotcrete machine?

Refractory shotcrete castable gunning machine
Refractory gunning machine is specially design for spraying refractory, castable in steel plant. Different from common dry mix shotcrete machine, there are ABB frequency converter, new type pre-dampening nozzle assy, high pressure water pump for refractory gunite machine. ABB frequency converter is used for adjusting output from 1m3/h to 3m3/h. The materials will block conveying convey hose if larger output capacity when begin to spray. High pressure water pump is used for provided higher pressure water for nozzle assy, pressure water come into nozzle through water ring and turn atomize, helpfully mix even materials and water. New type pre-dampening nozzle assy needle valve could accurately adjust the amount of water added. It can effectively reduce the amount of water added. Besides, new type nozzle tip is different from common shotcrete machine nozzle tip, flexible, reduce rebound.
New type pre-dampening nozzle

Gaodetec refractory gunning machine have been exported to Thailand, Malaysia, India, Indonesia, English, Oman etc. country, and received better feedback from customers because of its better spraying effect. You could check the below working video, it is our refractory gunning machine in Kerneos Company laboratory. Kerneos Company is France Kerneos Group invested in a wholly owned enterprise in China, the main production of portland cement.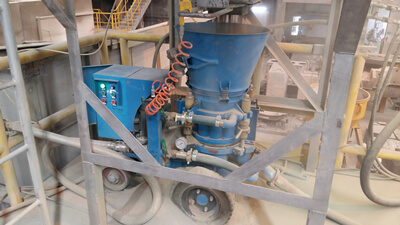 Refractory gunning machine working in steel plant