Portable mortar pump for sale
2018-09-25 16:20:38
Reasons for mechanical spraying of portable mortar pump, during the transportation and spraying process, the mortar may block the pipe due to various reasons. Blocking of the pipe is basically caused by the following reasons: portable mortar pump formulation problem, mortar separation and residence time in the pipeline is too long, working pressure is too high and so on.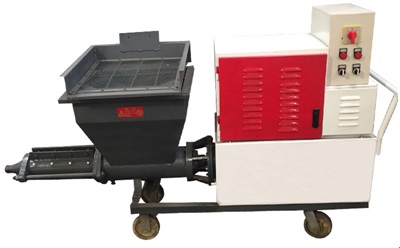 First, the blockage phenomenon occurs in the mortar formulation problem.
The blockage of the mortar pump formulation problem generally occurs in the initial stage of use. Because the mortar lacks certain fluidity, the friction is too large when the mortar flows in the slurry pipe, causing the pipe to be blocked. The plugging of this phenomenon generally occurs when the batch of mortar is used for the first time. The solution can adjust the variety or dosage of the admixture, and at the same time, the fluidity can be adjusted by adjusting the cementing material. After that, it should be tested and demonstrated. In addition to meeting the mechanical spraying performance, it is necessary to meet the requirements of product quality indicators and mortar cost.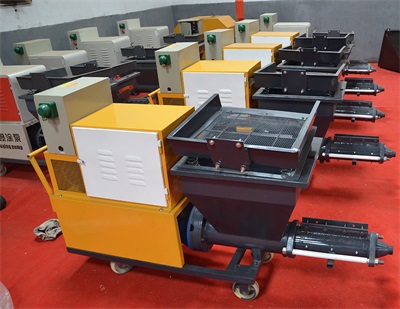 Second, the blockage caused by the segregation of mortar pump.
The blockage caused by the segregation of the mortar generally occurs in the middle of the spraying process. The main reason is that the mortar at the bottom of the mortar bulk tank is segregated, resulting in a change in the performance of the mortar material. The precautionary measure is to control the storage allowance of the bulk tank. When the storage capacity of the bottom of the bulk tank is too small, it should be stopped. For the mortar pump for sale that has been isolated, try to increase the consistency of the mortar for the bottom layer.
Third, the mortar stays in the pipeline for too long to produce a blocked pipe.



The main reason for the blockage of the mortar in the pipeline for a long time is because the mortar is too long to cause the initial setting of the portable mortar pump, which leads to a decrease in fluidity and a blockage. The main control method is to minimize the downtime. If it is necessary to stop for a long time, the remaining mortar in the equipment should be used up, and then the machine should be shut down and cleaned.