Portable DTH drilling machine for hard rock blast-holes
2018-05-30 18:40:37
The DTH drilling machine is used for drilling large diameter horizontal, vertical and slant holes during stone quarrying. It is necessary assistive equipment to two wire saw machine during the stone quarrying. The machine is controlled jointly by compressed air or electric motor and compressed air. And the pneumatic units are high quality standard.
The machine has some outstanding feature, such as:
★Low compressed-air consumption, high drilling efficiency, light in weight, easy operating and installing, etc.
★The particular screwing and discharging mechanism of tube devices reduces the intensity of laber.
★ The machine has the particular design for guiding drilling.
Customers could choose suitable model drilling machine according to the project additions. If the working site is remote, electric supply is not convenient, and generotor is also not easy to get, could choose full pneumatic drilling machine for project. Usually, for full pneumatic drilling machine, it will need much more compressed air consumption, because compressed air need not only be provided for hammer, but also be provided for air motor.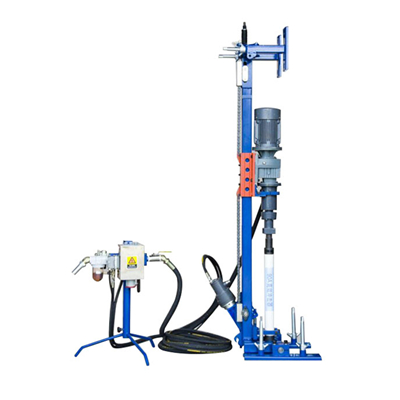 Full pneumatic Portable DTH drilling machine
Usually, in order to recommend the suitable drilling machine for customers, need provide the below project information, as follow:
1. What is your project with drilling machine, is it for blast hole, slope-protection or others?
2. What is the hole diameter and hole depth project need?
3. What is the geology you require to drill, is it for hard rock, soil or others?
4. What the local voltage if need electric motor driven?
http://www.gaodetec.com/drilling-rig/portable-dth-drilling-machine-for-blast-hole.html