Portable concrete pumps application
2018-12-11 09:30:22
Concrete pumps products are specially developed for the characteristics of floor heating construction mortar transport equipment, suitable for floor heating engineering fine stone concrete filling layer or mortar filling layer of large area, high efficiency construction.
Technical information of portable concrete pumps as follow:
1. Adopt advanced and smooth s-pipe valve to change direction: it can meet the transportation of fine stone concrete or commercial fine stone concrete, and should not block the pipe;
2. Eyeglasses plate and cutting ring: high hardness wear-resisting alloy material is used for longer service life;
3. High outlet pressure: it can meet the conveying requirements of high-rise buildings and long-distance construction;
4. The hydraulic oil is cooled by air cooling system: good cooling effect, easy to use, not easy to produce pollution to the oil;
5. Stepless portable concrete pump manual variable displacement: it can meet the different requirements of many users on discharging speed;
6. Advanced wireless remote control function: improve remote control distance, facilitate remote control operation, and make the product more humanized;
7. High wear resistance concrete cylinder: ensure and increase the service life of concrete pump, reduce the maintenance cost of users;
8. Main cylinder of chrome-plated inner hole in the new process: to avoid the problem of damage of main cylinder due to dirty oil;
9. Wear resistant glasses plate and cutting ring: the use of large area of hard alloy Mosaic is the latest technology, so as to improve the use of glasses.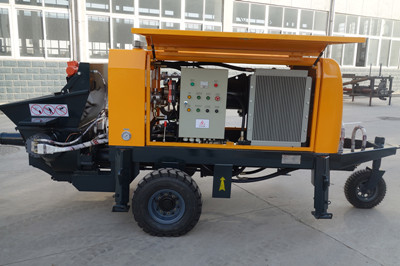 Portable concrete pumps application have been widely used in many construction areas such as Water conservancy, Electricity, Railway, Highway, Tunnel, Mine, National Defense, etc.
Special environment, such as: water diversion hole, culvert, mine, little tunnel construction including water-power engineering, hydropower engineering, slope support, underground construction, foundation grouting, a large group of building of post casting and so on.
They have also been exported to many countries and got an excellent reputation.