Foam concrete machine for wall casting
2018-12-12 09:37:10
The foam concrete machine is a device that can make a certain concentration of aqueous solution of foaming agent into foam. The foam concrete machine and the foaming agent are a technical system that cooperate with each other, and cannot play a role.
No one can do without it. Let me introduce you to the following. How to judge the performance of foam concrete machine.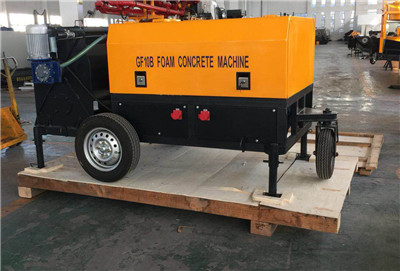 First, the fineness of the foam means that the foam produced is fine and dense.
High-performance foam concrete machine produce fine, cotton-like foams. It is easy to make a large foam in a foam concrete machine, but it requires a certain technique to make a fine foam. Therefore, the small size of the foam is also a manifestation of the good performance of the foam concrete machine.
Second, the uniformity of the foam, the foam production must be uniform, and the bubble diameter distribution is narrow.
The foam concrete machine meets the technical requirements of uniform foam, and the more uniform the better.
Although we can't ask all foams to have exactly the same bubble diameter, most of the bubbles are similar or identical, and the narrower the distribution, the better. If the foam concrete machine does not do this, it indicates that its foaming performance is not satisfactory.
Third, the foam secretion, the foam bleeding rate is low, no milky foam.
The high rate of bleeding of the foam is the amount of water that is secreted after the foam has completely disappeared.
The higher the bleeding rate, the worse the quality of the foam. If the foam concrete machine is always a milky foam with less water and less foam, and the bleeding is high, this foam concrete machine is not technically demanding and cannot be selected.
Foam concrete machine for wall casting is new way to build houses, in this way, the house is comfortable, thermal insulation, waterproof, fireproof, sound reduction, shock resistance, etc.
You could contact us freely when you need the foam concrete machine for wall casting. Also, it can be used to make CLC blocks, roof insulation, basement filling, etc.