Hose peristaltic pump for sale
2019-08-28 14:05:32
The hose peristaltic pump uses a flexible hose to pass through the rollers in the pump head. A fluid pack is formed as the fluid passes through the hose peristaltic pump head. The flow rate depends on the size of the package and the speed at which the drum rotates. Accurate metering of the media can be achieved by controlling the size of the pipe and the speed of the pump head.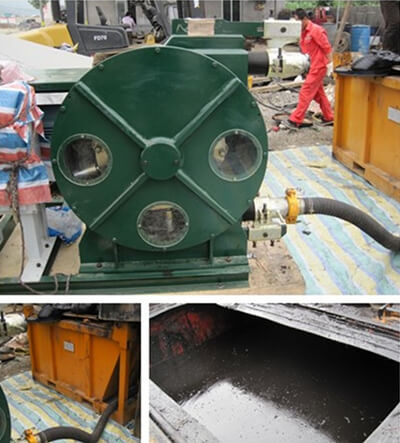 1. Application of hose peristaltic pump
☆ Hose peristaltic pump for construction;
☆ Pharmacy;
☆ Textile mill;
☆ Dye production;
☆ Water treatment;
☆ Papermaking;
☆ Excavation;
☆ Ceramics;
☆ Beer and beverages;
☆ Hose peristaltic pump for underground engineering;


2. Advantages of the hose peristaltic pump
☆ The only part of the peristaltic hose pump that comes into contact with the liquid is the pipe. This maintains the sterility of the fluid and pump.
☆ Hose peristaltic pump offers more than 20 pipe formulations and sizes for excellent compatibility with a wide range of liquids.
☆ Self-priming peristaltic hose pump can draw liquid into the pipeline when it starts to dry, the maximum suction can reach 8.8m. Other pumps require the user to fill the pump and the suction line with fluid prior to use, which may be inconvenient and may also result in dangerous spillage or contamination.
☆ Moderate pumping action - Low shear - Makes the peristaltic pump ideal for handling cells and large proteins, as the pumping action does not damage the contents.
☆ Some peristaltic pumps have variable speed options and are ideal for dosing applications.
☆The liquid does not touch the peristaltic pump, so there are no cleanable parts such as valves, diaphragms, seals, etc. All you have to do is clean or replace the pipe. This easy-to-replace pipe means less maintenance time.
☆ Peristaltic pumps are non-siphonic, which means they prevent backflow into the system. This improves the accuracy of the allocation period.