Filter press used for mining
2019-08-29 17:50:07
GAODETEC MC (mineral concentrate) filter press for mining is ideal for high volume dewatering of mine tailings and mineral concentrates, proven filter presses.
In order to remain cost-effective, the mine's daily filter tonnage needs to be met with fewer machines, providing a high filter cake without operator intervention or frequent maintenance requirements. The GAODETEC MC (Ishigaki) dewatering press offers exceptional performance and features and benefits for efficient, reliable and cost-effective high-capacity filtration. Significant short cycle times translate into increased operational efficiency and higher daily filtration tonnage.
Polypropylene filter plates are designed for high flow top center feeds. The concentrate is delivered from both ends in a double ended feed design. The filtrate was discharged through a large filtrate port.
The filter cake is blown through the filtrate manifold and delivered to the chamber through a highly wearable, replaceable filtrate port.
With Gaodetec MC, the cake drain is fully automatic and designed to run 24 hours in harsh environments. The design of the filter chamber and the separation of the cloth and the plate cause the filter cake to drain; any cake that is temporarily placed will be removed by the fabric drop mechanism. Any remaining paste cake is sensed by a hanger bar resting on the vibrating tube. This condition initiates a vibration frequency designed to drain all remaining cake.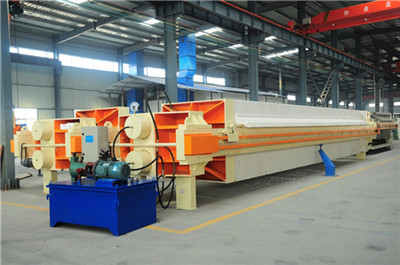 Cloth cleaning - fully automatic and fast, <1 minute
Although washing takes only about 30 seconds, it is one of the keys to economical, consistent high-volume filter press operation.
GAODETEC Cloth Wash
Cloth cleaning is application specific and can be set to full wash:
After each cake discharge cycle
Rotating batch cloth
After a certain number of water-saving cycles
GAODETEC Cloth Wash is a unique feeding device attached to the filter cloth that delivers the concentrate well into the chamber and uses a protective rubber layer to ensure a large amount of circulation before the filter cloth needs to be replaced. This protection allows more options to be selected for the filter cloth design.
The GAODETEC embedded membrane GAODETEC filter press used for mining can be configured with an embedded filter or a composite membrane/with an embedded filter.
The membrane extrusion plate provides the option of extrusion at high pressures that can be used to reduce cycle time and/or consolidate the filter cake for a more efficient blow. In the case of a membrane sheet, additional equipment is required to provide high pressure water for extrusion.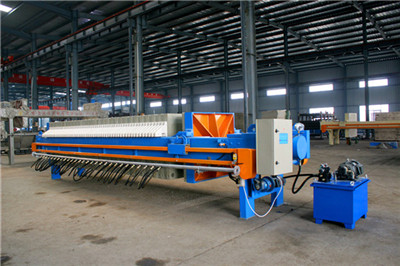 Service and testing
A key component of any filter press application is after-sales service. If there is no technical support - if necessary - even complex filtration equipment can become unreliable and difficult to maintain.
With the professional support of Micronics, GAODETEC filter press used for mining will operate as designed - efficient, economical, and highly reliable to meet high volume filtration needs. Ishigaki and Micronics, Inc. Cooperation provides you with the spare parts, services and application assistance you need. We have a wealth of knowledge in the mining and mineral processing industries that we can draw on.
Contact us to learn more about our high-capacity mining filter press and dewatering presses and how Micronics can use our industry expertise to meet your demanding high volume dewatering requirements.