High quality diesel concrete mixer with pump
2018-06-12 14:59:30
High quality diesel concrete mixer with pump is the newest products patented by our company. Concrete mixer with pump is combined functions of concrete mixer and concrete pump together for mixing and pumping concrete widely used in small and medium construction projects. With the functions of mixing and pumping combined into one machine, concrete mixer pump can move easily, flexible, small size, light weight, and strong mobility. The driven power could be by electric motor or diesel engine for choice. Electric concrete mixer with pump equips with 56kw main motor, and diesel concrete mixer with pump equip with 65kw diesel engine. Especially suitable for using in areas where there is no power or less power. The max. aggregate size it could convey 20-30mm. Adopting double-pump and double-loop hydraulic system, the main pump transmission line and the S valve oscillating oil line are independent of each other, which makes the system simple, the component life extend, the reliability higher, and the easy judgment and elimination of faults.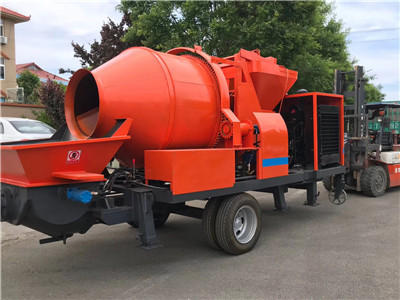 Mixing and pumping into one, simple to operate, easy to move, flexible, and stable performance. The high quality concrete mixer with pump construction operation system used in all automated, all material mixing, high pressure pumping as one; Double cylinder hydraulic pumping system, hydraulic system greatly enhance the stirring Concrete pump overall reliability ensure pump strive foolproof work under harsh conditions. Control box adopts PLC program, stable, reliable and long service life. Mixing and pumping can be operated by one worker, saving labors. Automatically system which gather aggregate, mixing and high-pressure delivery into one, easy-operating with stable performance, widely used in all kinds of fine stone pumps and large aggregate concrete, such as: new rural construction, farmland water conservancy infrastructure construction, suitable for all kinds of 2 to 12 floors of small and medium-sized housing construction, road construction, and the spread of small construction sits where need the concrete mixer at the scene.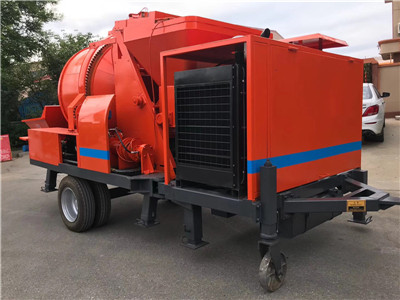 Diesel concrete mixer with pump need a 40GP container to ship. Standard export packaging by container, which should be applicable to international requirement. Big size equipment will be fixed by steel wire, while small ones together with spare parts will be packed into wooden boxes. Delivery time is about 15-20 days when receive your payment. 30% of total price should be paid by T/T as down payment; 70% balance payment should be paid by T/T before delivery. We also support L/C, Western Union and so on. We are a professional manufacture and exporter specializing in production, quality control and exporting for many yeas. We adopt world-famous brand for the key electronic elements, pneumatic and hydraulic system to ensure high quality and reliable of the concrete equipment. Our products are optional and humanized. Products can be configured with customer demand to meet customer requirements. Our products mainly include concrete machinery and construction machinery and so on. More information about diesel concrete pump with mixer, please contact us freely. Thanks.