Cement grout pump for soil improvement
2021-07-05 15:40:54
Cement grout pump is designed to pump a wide variety of high viscosity slurry, bentonite, cement, fly ash, filler, clay, and similar suspensions for soil improvement, especially in tunneling and dam grouting construction.



Gaodetec Equipment is a cement grouting pump supplier and manufacturer in China. Not only in the grouting pump, but also in the grouting mixer and agitator, as well as the compact grouting mixing plant. Diesel engine and electric grouting equipment are suitable for different grouting projects. Tunnel, dam foundation, mining, soil infiltration, soil and rock grouting, micro cement grouting, infiltration grouting, soil anchor, soil nail, rock bolt and post tension grouting.



As a professional grouting pump supplier, we provide you with the right machines and solutions. You will get personalized and cost-effective system configuration, low wear and maintenance costs, high quality and user-friendly products.

If used in other fields, the advantages of cement grouting pump
for soil improvement
may not be fully realized. Some electric cement grouting pump including the remote control functions, this allows the end user to grasp the working status of the mining cement grouting machine on the ground at any time. This could ensure that the machine can complete the grouting task safely and steadily.



Customers should pay attention to their qualification and production capacity when choosing the right grouting pump manufacturer. Grouting pump is a kind of mechanical or hydraulic equipment. Must rely on good production technology and mature production technology, rely on perfect quality inspection process, in order to produce qualified good products. Pilot equipment supply grouting pump price, reasonable price with high quality grouting pump. With ISO and SGS factory reports, you are a reliable grouting and grouting partner. Advanced grouting mixing and pumping system and high output grouting machine. All our electric cement grouting pumps have coordinated equipment configuration, electrical control and power design, which are powerful and easy to operate. Grouting technology enables your grouting mixing and pumping system to operate with near 100% availability.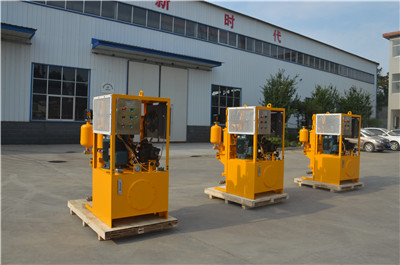 Gaodetec Equipment produces a variety grouting equipment, including high speed high shear grout mixer and agitator,
cement grout pump for soil improvement
and cement grout plant station
for soil improvement
. All the above machine could be customized according to your projects request, including the capacity, flow, pressure and the power. If you want to know more information about positive displacement grout pump in Vietnam, please email us: info@gaodetec.com.