Foam concrete machine in Indonesia
2018-10-12 10:22:53
As a processional foam concrete machine manufacturer, we have producing and selling foam concrete machine for 10 years. The foam concrete machine includes screw conveyor, foam generator, foam concrete mixer and foam concrete pump.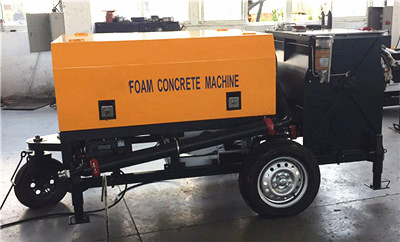 For the screw conveyor of the foam concrete machine, which is better than belt conveyor. It can reduce the dirt and protect our body from dirt. As to the foam generator of the foam concrete machine in Indonesia, which can produce a lot of foams, and for the capacity of the foam generator, we can provide 10 cubic meters per hour and 20 cubic meters per hour for your option.
Regarding to the foam concrete mixer of the foam concrete machine, which is related to the screw conveyor, easy to operate. About the foam concrete pump of the foam concrete machine in Indonesia, it can pump long level distance and vertical distance.
The foam concrete produced by our foam concrete machine in Indonesia has many advantages:
The first is sound insulation and noise reduction. The foam light soil is porous material, which meets the production quality requirements of the state and has very good performance in sound reduction.
The second is excellent thermal insulation performance. It uses cement as the cementing material. Under the action of the foaming agent, bubbles are formed, and the fine bubble layer blocks the thermal bridge, so the heat insulation is good.
The third is that the durability is good, the environment is adaptable, and the stability is strong, which reduces the occurrence of various situations. The production is convenient, the construction speed is fast, the impact resistance is strong, the raw materials are wide, and the density and strength can be adjusted.
So if you want to produce the foam concrete or foam concrete products, such as, foam concrete blocks, foam concrete wall panels, you can contact us. We can provide foam concrete machine, foam agent, foam concrete block moulds and lightweight wall panels machines to you.