Construction method of floor-heating foamed cement insulation layer
2018-05-03 18:00:21
For the construction method of floor-heating foamed cement insulation layer, most departments adopt the so-called "self-leveling" construction method, which is the use of foamed cement for natural leveling. In order to achieve "self-leveling", the water-cement ratio is generally increased; in order to ensure that the thermal insulation layer of the floor-heating foam has a certain strength, the amount of cement is generally increased, which will significantly reduce the thermal insulation performance of the foamed cement.
Change the "self-leveling method" and use the leveling method:
1. In the preparation of foaming cement, strict control of excess moisture, to maintain a certain degree of consistency of foamed cement. The first method is to mix the foamed cement paste with a certain consistency, and the other is to keep the foam dry when it is foaming, that is, to bring less water.
2. Floor-heating foamed cement initial leveling, and then natural leveling.
Through the above measures, the problems of surface looseness and bottom sedimentation can be effectively solved.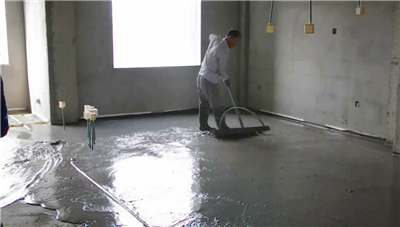 Furthermore, a good foaming agent is selected.
The function of the foaming agent has a great influence on the quality of the foamed cement. The excellent foaming agent has a large amount of foam, a high foam strength, and is not easily broken. Therefore, the consistency of the foamed cement is also easy to control. Poor foaming agents, on the other hand, have less foaming capacity, low foam strength, and difficult quality control.




GF5 foamed cement machine is a kind of small one according our many years of working experience. The foamed cement machine includes a feeder, a mixer, a set of foaming system and a pump, adopts digital control technology, can exactly adjust foam cement density. This foamed cement machine capacity is 5 cubic meter per hour, which is special design for compact worksite. The foamed cement machine can put directly on the truck or hang to floor for working. At present, our products have already big batch export to overseas market, achieving a historic breakthrough that China cement foam machine from import to export.