Diesel concrete trailer pump
2018-11-05 09:30:43
Our diesel concrete trailer pump has the features of high efficiency, low upkeep cost, etc. It especially convenient for the workplace which is lack of electricity or with different voltage. If you want to buy a new concrete trailer pump with high quality, we are your better choice. All products can be customized. If you're interest in our products, please contact directly.

Diesel Concrete Pump Advantages
1. Extend component life
Overall hydraulic commutation system: the alternative commutation actions between pumping and S tube distribution doesn't involve electric signals. Little impact and noise occurs during the commutation, so the service lives of the hydraulic pump and valves are evidently lengthened.
2. Reduce the failure rate
Full hydraulic commutation system adopts centralized valve plate, the hydraulic valves of main system are centralized in one valve plate. The number of cross-connected pipelines is reduced, the system gets more compact, at the same time the oil leaking possibility is decreased.
3. Improve equipment reliability
Overall hydraulic system saves the intermediate process of the electric signals. In this way, the reliability of the whole equipment is greatly increased.
4. Reduce maintenance costs
Full hydraulic commutation system, deleting four parts extremely damageable in the electronic commutation system, reduces equipment maintenance costs.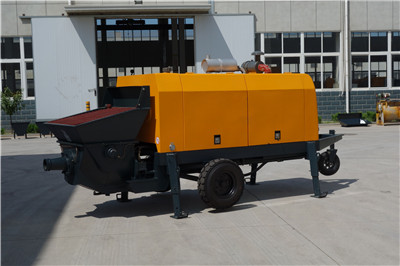 The diesel trailer concrete pump application have been widely used in many construction areas such as water conservancy, electricity, railway, highway, tunnel, mine, national defense, etc. And as one of the top china construction machinery manufactures, we have exported diesel trailer concrete pumps to numerous countries.
This Diesel trailer concrete pump is used for pumping concrete from lower attitude to higher attitude in building construction. Our customer is greatly satisfied with its appearance and its high efficiency & stable working process, and is intending to further business contact if they needs any machinery machine.
If you are interest in this concrete pump, you can search in details by click diesel trailer concrete pump, or contact with us by send email. Our email address: info@gaodetec.com.