Metal duct making machine for sale
2018-11-02 09:13:33
Gaodetec brand metal duct making machine is used for producing metal corrugated duct for prestressed concrete channel, adopts galvanized strip or black strip make into double corrugated duct; the dimension of this duct making machine is small, high efficiency, easily operation and maintain, it is very suitable for work site or factory.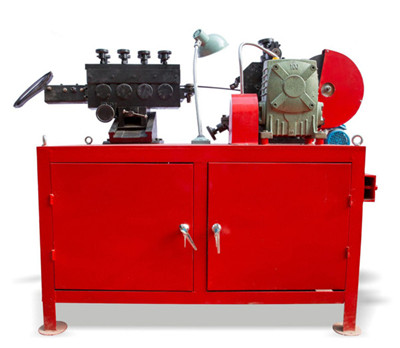 Its working principle as following:
Strip-cleaning tank-guide strip frame-forming roller-forming head-pressing-forming-cutting
Put 0.25~0.3mm thickness and 36mm width duct making machine steel strip into water tank with emulsified oil; the direction of steel strip is controlled by guide strip frame; them enter into 4 units trolley wheel for pressing into double corrugated, the left fold to upper, the right fold to down; then rolling on the forming head, then make press flower wheel and press wheel to press tightly, finally, corrugated duct will be finished. When the length of corrugated duct reach to requirement, when the end of duct touch the stroke switch, main electric motor will be stop automatically, then using cutting machine to cut one piece duct, now all the process will be finished. Then you could make the next duct continuously.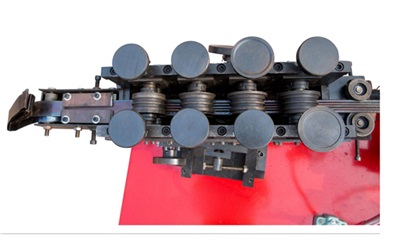 The following the main point of this metal corrugated duct making machine:
1. The forming compression roller press steel strip out, its left need to fold upper, then enter into the root of spiral bushing straightly, steel strip must be the same angle with spiral bushing.
2. The placement of spiral bushing: its port should be on the top of mould head; when mould head rotates, it should no friction between mould head and mould head.
3. When twine steel strip, the fresh man could use compising stick to twine steel strip to fix.
4. The placement of flanging wheel: the edge of wheel touch with mould head, its distance should be 2mm with the port of spiral bushing, please don't use too much power when adjusting, prevent to steel strip is break down by the edge of wheels.
5. Pressing edge wheel should be close to steel strip, its upper and lower side along with flanging wheel and pressing edge wheel, don't use too much power to adjust pressing edge wheel, prevent flanging wheel is broken.
6. Pressing flower wheel and straight wheel: according to the angel of folding to place wheels, it bring the direction of wheel into correspondence with with angle of side; it is ok to show indentation when adjustment.
7. Pinch roller: according to the edge of finished side, swing the angle slightly to the right, screw tightly by hand, you could adjust it again when duct is making.
8. Adjusting flanging wheel, pressing edge wheel's telescopic fork, and pressing flower, pinch roller's promote tube, the power try to don't use wrench, avoid the power is too large or uniform, main shaft will be deformation.
If you have any question about operation of this metal duct making machine, welcome to consult with us.