Diesel concrete pump factory
2019-09-19 19:52:12
GMP7/35D is a newly designed concrete pump from China Gaodetec diesel concrete pump factory. If you want to find a concrete pump with diesel engine factory, you can contact us. GMP7/35D concrete pump with diesel engine can also be ordered as a sliding installation or as an electric option. This diesel concrete pumps are the most durable, compact, efficient and versatile pendulum engineering concrete grout pumps on the market today. Powered by a 23KW diesel engine, this diesel concrete pump is compact and powerful to deliver concrete to low-rise buildings.Reduce labor costs because it improves efficiency and portability. GMP7/35D diesel concrete pumps can be transported in trailers or typical pickup trucks, making them very convenient on the site; GMP7/35D masonry diesel concrete pump with electronic agent switch hydraulic technology, variable speed pump with positive reversal capability, with output of 3-7m3/h.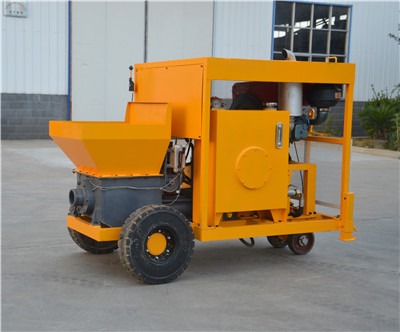 Technical information on portable concrete pumps is as follows:
1. The use of advanced smooth S-type tube valve to change the direction: can meet the transport of fine stone concrete or commercial fine stone concrete, should not clog the pipe;
2. Spectacle plate and cutting ring: the use of high hardness wear-resistant alloy material, longer service life;
3. High export pressure: can meet the transport requirements of high-rise buildings and long-distance construction;
4. Hydraulic oil using air-cooled system cooling: good cooling effect, easy to use, not easy to produce oil pollution;
5. Non-grade portable concrete pump manual variable displacement: can meet the different requirements of many users on the discharge speed;
6. Advanced wireless remote control function: improve the remote control distance, convenient remote control operation, so that the product more user-friendly;
7. High wear-resistant concrete cylinder: to ensure and improve the life of the concrete pump, reduce the maintenance costs of the user;
8. Chrome-plated main cylinder in the new process: avoid the problem of damage to the main cylinder caused by oil pollution;
9. Wear-resistant glasses and cutting rings: the use of large area carbide mosaic is the most new technology, thereby improving the use of glasses; Portable concrete pump applications have been widely used in water conservancy, electricity, railways, roads, tunnels, mines, national defense and other construction fields. Special environment, such as: drainage holes, culverts, mines, small tunnel construction and other hydropower projects, hydropower projects, slope support, underground engineering, basic grout, large-scale after-pouring.



They are also exported to many countries and enjoy a good reputation. The GMP7/35D diesel concrete pump can be used in the following applications:
Concrete or bridge repairs;
Seat stability;
Block filling;
Mining;
Piling packaging;
Pressure grout;
Fire resistance;
Spray ediconcrete;
slabjack / mudjack lift;
Soil stability;
Fill in the blanks;
Comparing with general concrete pumps, our diesel concrete pumps have the following advantages: It has sturdy tires that move around at will, a separate electronic cabinet, and is easy to operate and service life. The concrete pump is equipped with Changchai L32 diesel engine, electric start, with speed control handle, quality assurance, easy to operate. It produces 3-7m3 / h, is gradeless and is more widely used in grouting and spraying.


And specially designed nozzle, spray flow is uniform, continuous stability. In the case of jet concrete, a metering pump and an air compressor are required. We are a professional concrete machinery manufacturer in China, and we can accept custom concrete pumps for your application. Welcome to send us a query, this is our official email: info@gaodetec.com, thank you very much.