China portable concrete mixer supplier
2018-04-10 09:45:17
1. The concrete mixer can be dragged to move by four wheels.
2. Cast iron ring gear enables steady and silent on working.

Adopting the design idea of high strength, high stiffness and high quality, we have designed streamline mixing drum, fully-enclosed frame and round handle, pedal type positioning and fixing structure of high speed, high efficiency and high reliability.

With application of foreign advanced quality managing mode, advanced equipment and technologies such as digital laser cutting and punching press molding line, fully automatic acid pickling, phosphating, plastic spraying line etc, we have produced mixer of beautiful appearance, high stiffness , high quality and long service life. It is the best mixer machine at present.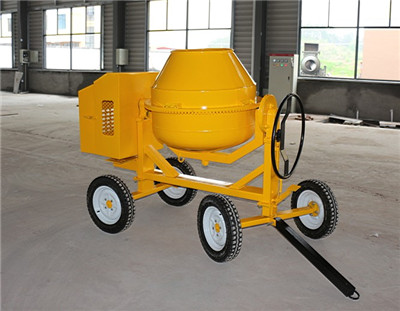 China portable concrete mixer is applied in the mixing of concrete(such as construction, home repair), breeding feed(such as chicken farm, pig farm, fish farm, holothurians farm), chemical raw material(such as compost, industrial raw material), seed and solid or liquid with little viscosity.
1. Check the machines before each operation.
2. Please put the machine level and steady, and check the 4 legs fixed, and the bolt bars have been fixed tightly.