Hydraulic cement slurry grouting mud pump
2022-01-04 17:50:11
Hydraulic cement slurry grouting mud pump, also know as mud drilling pump or drilling mud pump, grouting mud pump, etc. It is a reciprocating piston/plunger pump designed to circulate drilling fluid under high down the drill string and back up the annulus. A hydraulic cement slurry pump is an important part of the equipment used for drilling.

How does a hydraulic cement slurry pump work with a drilling rig?
A drilling rig mud pump is used to circulate drilling fluid or drilling mud into the bore hole to help cool, lubricate and clean the drill head as it bores into the ground. The cement slurry grouting mud pump is also used to suspend and carry out drill cuttings from the drill head as it is brought in and out of the hole. This ensures that the drill does not clog and overheat, and makes the entire drilling operation smooth and safe.

Hydraulic cement slurry pumps type pumps that basically work by drawing a fluid into a chamber or cylinder by the action of a piston, plunger or diaphragm, and then pushing it out to the needed direction through the use of one-way or check valves, resulting in the pulsed flow of the liquid in one direction. Ganging multiple pumps together increases the pump efficiency and provides a smoother liquid flow for better performance.

The below photo is our diesel engine BW850/2 mud pump used for light rail project in Malaysia. The BW850/2 mud pump is a high flow low pressure pump, the max. Flow is 850L/min, max. Pressure is 3MPa, it has 3 gears for your option, you can choose a suitable according to your project.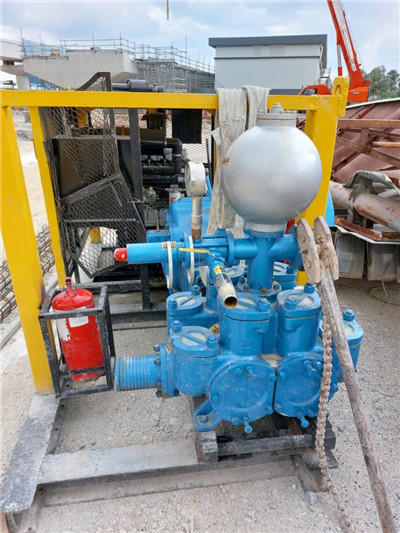 And you can find a cement slurry grouting mud pump in these places, such as:
1.Projects: Construction drilling of the projects e.g. prospection, geotechnical investigation(geological exploring), railway, road, port, bridge, water conservancy and hydropower, tunnel, well, industrial and civil construction;
2. Exploration: Coal mining exploration, Ore exploration;
3. Water well : Small hole diameter water well drilling;
4. Pipe-installing : Geothermal pipe-installing for heat pump;
5. Foundation piling: Small-diameter hole foundation piling drilling.

Gaode Equipment has focused on manufacturing and selling mud pump for more than 13 years, for more info, please contact us freely: info@gaodetec.com