1000ton hydraulic jack for sale
2019-11-07 18:33:57
We specializes in the production of tension hydraulic jack, we have hydraulic jacks for sale of 27ton, 200ton, 300ton, 500ton, 600ton, 650kn, 800ton, 1000kn, 1500kn, 2000kn, 2500kn, 3000kn, 4000kn, 4500kn, 5000kn, 6500kn, 7500kn, 8000kn, 8500kn, 9000kn, 10000kn, 12000kn or more larger. We have many types for you choose, we can also customize 1000ton hydraulic jack according to your requirements.
Features of our tension hydraulic jack:
1. Our hydraulic jack also can tension 16mm, 22mm, 24mm, 26mm, 28mm, 32mm, steel rebar service.
2. It can tension the followings PC strand and steel rebar.
3. It can tension standard pc strand diameter 12.7mm, 15.24mm, 15.7mm, 16mm pc strand.
4. It can tension non-standard pc strands diameter 8.0mm, 9.52mmn, 10.8mm, 12.9mm. 17.8mm, 21.6mm, 21.8mm, etc.
High tonnage hydraulic jack service:
1. We can provide OEM service, you can put your logo on our products and equipment.
2. Professional Services: 1*7days 24 hours service online, and engineer can service oversea.
3. Warranty Time: One Year, we will send you repair kits if you need any time.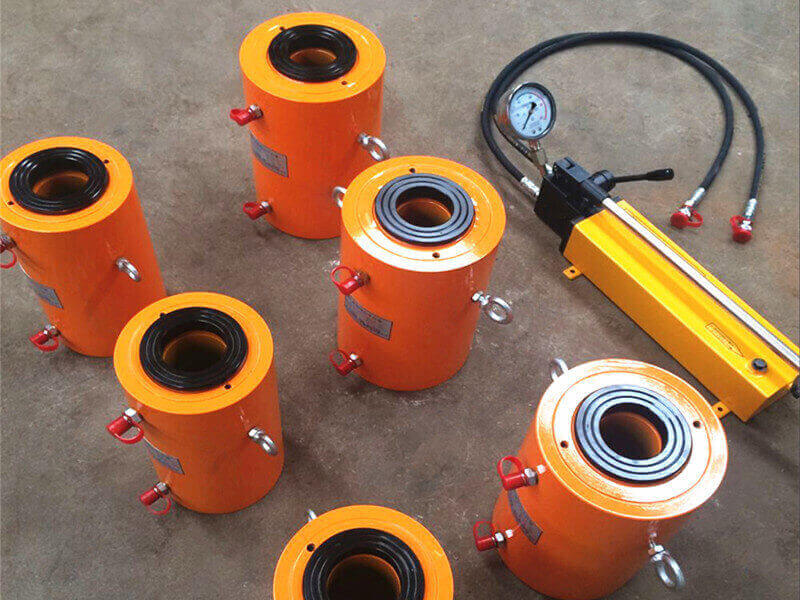 I will introduce high tonnage hydraulic jack for sale to you today. High pressure electric hydraulic cylinder by high pressure electric oil pump to provide power, with oil pressure rebound, overflow function, it designed a safety protection pressurizer, it can protect the pressure, special construction can protect the jack. The hydraulic cylinder can withstand some loads of 5% of the rated pressure. High-pressure alloy cylinders are extremely durable, especially in larger engineering applications, and are easy to operate and control. It can be used for heavy machinery, bridge engineering, water conservancy projects, port construction and other equipment. It has the advantage of large output, light weight, remote control and China's high-pressure oil pump comparable, can reach jack, push, pull, squeeze and other working hours. For large tonnage hydraulic jacks, we have double acting high tonnage hydraulic jack and single acting 1000ton hydraulic jack for you to choose from.
High quality double acting high tonnage hydraulic jack for sale


Double acting high tonnage hydraulic jack is mainly used for the installation and disassembly of equipment in railway bridges, construction, machinery manufacturing, electric power, mining, shipbuilding and other industries.
High tonnage hydraulic jack for shipbuilding: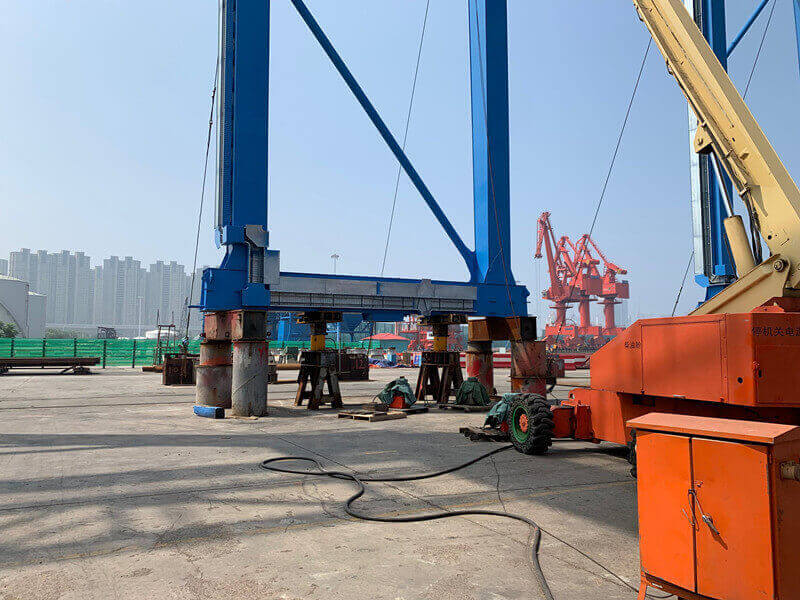 Double acting hydraulic jack for railway bridges:


Hydraulic jack for construction: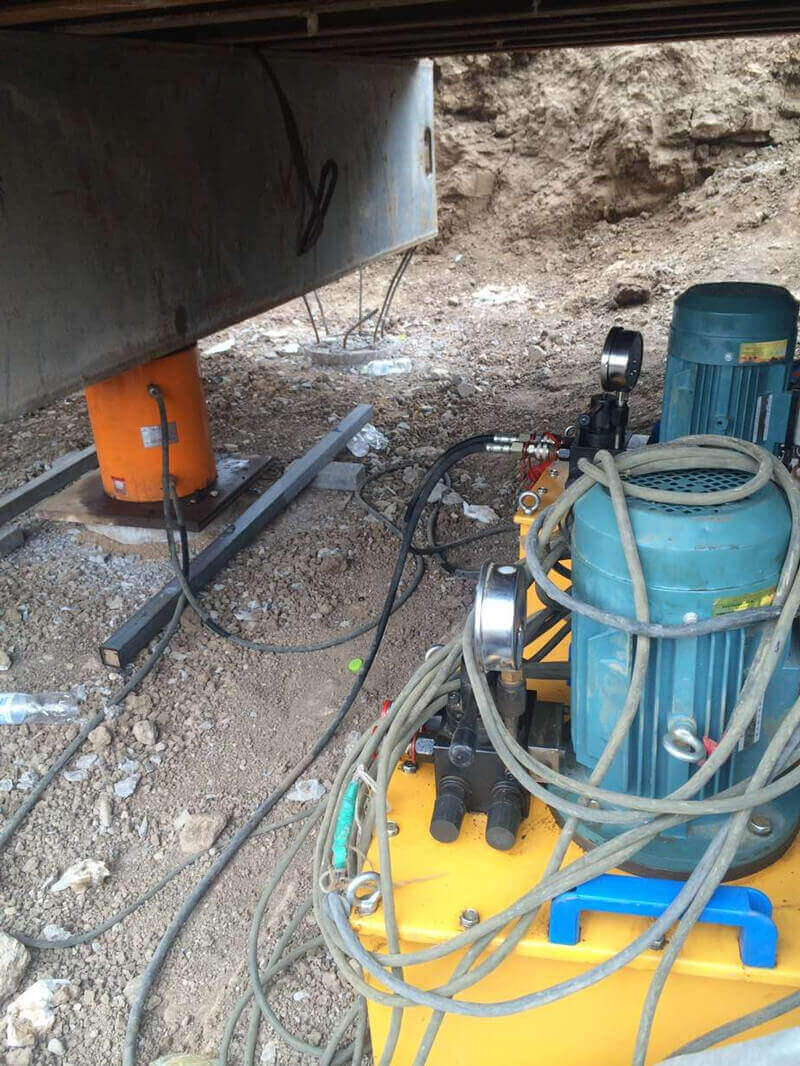 Features of high tonnage 1000ton hydraulic jack:
1. Double action, hydraulic return oil, it can improve the lifting speed.
2. The built-in relief valve prevents damage under overpressure.
3. Enamel paint and electroplating pistons provide excellent corrosion resistance and strain.
4. Plunger-type wipers can reduce pollution and extend cylinder life. 5.3/8 inches. All models come with an 18NPT coupler and dust cover.

China high quality single acting hydraulic jack for sale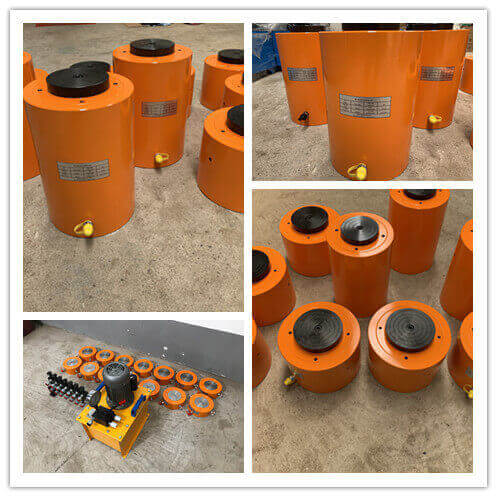 Application of single acting hydraulic jack: bridges, high buildings, coal mine, railway and subway, water conservancy and hydropower engineering.
Single acting hydraulic jack for construction :

Features of single acting hydraulic jack for sale:
1. Single action, load return.
2. The integral stop ring provides piston squirt protection.
3. Special bearing design can withstand lateral loads up to 10% of the rated load.
4. Built-in scraper seals can reduce pollution and extend cylinder life.
5. Standard rigid deep groove saddle, can choose 5 degrees titration saddle, to adapt to the uneven component situation.
6. The monodynamic design is suitable for working conditions where a common force needs to be connected.
7. The monodynamic design is not suitable for horizontal working conditions.
8. All models come with a 3/8'-18NPT coupler and dust cover.
1000ton hydraulic jack work principle:
Hydraulic jacks consist of housings, large pistons, small pistons, wrenches, fuel tanks, etc., which are smaller in size and can produce greater working capacity. Hydraulic jack is particularly suitable for space narrow occasions, it is lightweight, flexible, large top force.
The most basic principle based on hydraulic transmission is the pascal principle. That is to say, the pressures around the liquid are consistent. Thus, in a balanced system, the pressure exerted on the smaller piston is smaller, and the pressure is larger. The pressure exerted on the piston is also relatively large, which keeps the liquid stationary. Therefore, through the transfer of the liquid, different pressures at different ends can be obtained, so that a transformation can be achieved. The hydraulic electric jacks we often use are using this principle to achieve force transmission.
How to use 1000ton hydraulic jack:
1. Check that the parts are normal before use.
2. The use should strictly abide by the provisions of the main parameters, avoid excessive overload, otherwise when the lifting height or lifting tonnage exceeds the regulations, the top of the electro-hydraulic jack will suffer serious oil leakage.
3. For electric pump, please refer to the instruction manual of GAODETEC electric pump.
4. The center of gravity of the heavy object should be moderately selected. The focus of the electro-hydraulic jack should be properly selected. The bottom surface should be leveled. At the same time, the soft and hard conditions of the ground should be considered. Whether the tough wood should be padded should be placed smoothly to prevent the load from sinking or tilting.
5. After the electro-hydraulic jack lifts the heavy object, the support should be used to support the heavy object in time. It is forbidden to use the ultra-high pressure large-tonnage electric jack as a support. If you need to support heavy objects for a long time, please choose self-locking jack.
6. If you need several electro-hydraulic jacks to lift at the same time, please choose the type synchronous jack. In addition to correctly amplifying the tonnage electric jack, you should use multi-top diverter valve, and the load of each large-tonnage electric jack should be balanced, keeping in mind that the lifting speed is synchronized. It is also necessary to consider the possibility that the ground may be sunken due to uneven weight, and it is dangerous to prevent the weight from being tilted.
7. When using, first connect the quick joint of the manual pump to the top, then select the position and screw the oil drain screw on the oil pump to work. To lower the piston rod, the manual oil pump hand wheel is slightly loosened in the counterclockwise direction, the cylinder is unloaded, and the piston rod is gradually lowered. Otherwise the speed of falling too fast will be dangerous.
8. The electric jack is hydraulically retracted. After lifting, it can be quickly taken out, but the connected hose cannot be used to pull the ultra-high pressure large tonnage electric jack.
9. Do not exceed the rated stroke when using the user to avoid damage to the electro-hydraulic jack.
10. The 1000ton hydraulic jack should be violently vibrated during use.
11. It is not suitable for use in workplaces with acid and alkali and corrosive gases.
12. Users should check and maintain regularly according to the usage.



We also supply full complete set anchor system and equipment for construction, please see following:
1. Mono strand anchor system: 5mm, 7mm, 8.0mm, 9.0(9.52mm) anchors for steel wire.

2. Multi strand anchor system: 9.52mm, 12.7mm, 12.9mm, 15.24mm, 15.7mm, 21.6mm, 22mm anchors for pc strand.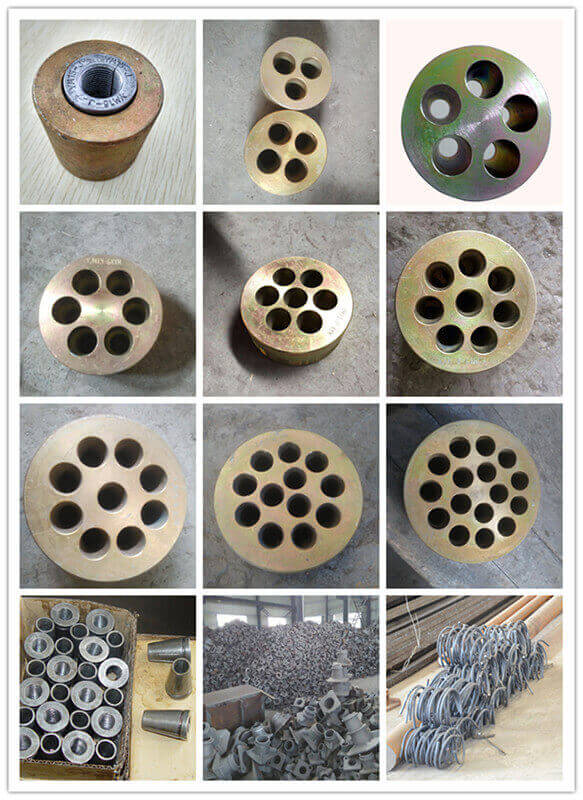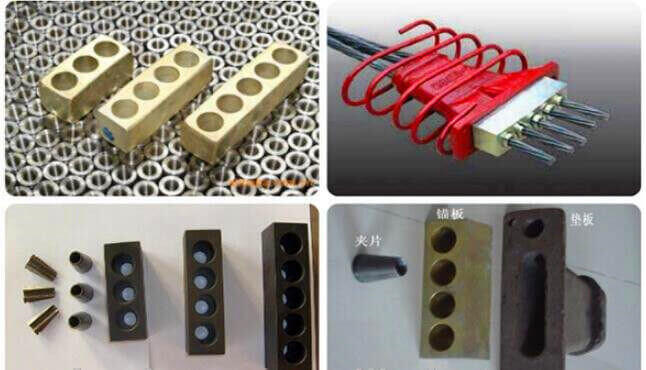 3. Steel rear anchor system: 16mm, 18mm. 22mm, 24mm, 26mm, 28mm, 32mm, etc.
4. Equipment: hydraulic jack, oil pump, metal ducts making machine, pc strand(steel wire) pulling machine, grout pump and mixer, vacuum pump, embossing machine(building jack), extruding machine, etc.

5. Building materials: unbonded pc strand, bonded(bare) pc strand, 4mm to 10mm pc steel wire, metal ducts, plastic ducts, steel strip.
6. PC Strand: