What is shotcrete?
2019-05-25 16:58:57
SHOTCRETE (wet or dry mix) is a mixture of sand, cement and water. The dry mixture is applied through a rubber hose of a cement gun. The material is mixed in a relatively dry state and hydrated in a nozzle in a special mixing nozzle.
The hydration begins as the material leaves the chamber and the resulting mixture is projected under air pressure.
The application of pressure allows the designed concrete to be applied to almost any surface at any angle and thickness.
If properly mixed and applied, shotcrete has a wider range of applications and is less expensive than concrete applied by any other method. It is very strong and dense, and is very resistant to weather and many forms of chemical attack. The ease with which materials can be applied and the speed of use increase the use of the method in construction, maintenance and retrofitting. It is used to recover and repair damaged or deteriorated sewers, bridges, dams, water treatment plants and many other types of masonry structures.
Shotcrete specifications:
The concrete is designed as a fine aggregate and cement that is mixed in a specified proportion of the dry state. Water is added to the mixture prior to discharge from the nozzle. Shotcrete is applied by layers of various thicknesses by pneumatic pressure, which is referred to as a cement gun operated by a technician.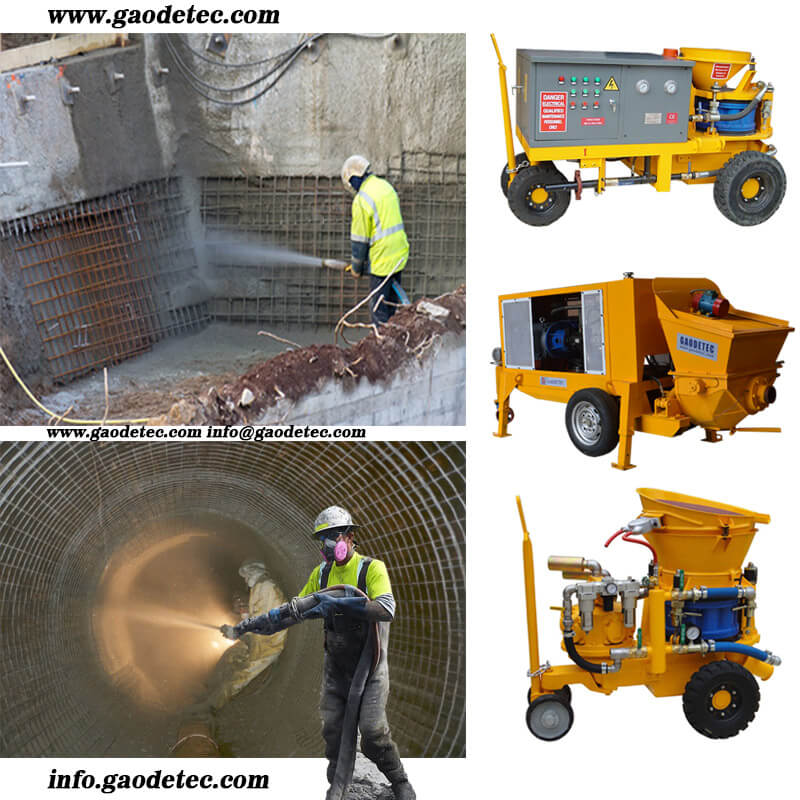 Fine aggregate:
When sand is used, it should be clean and reasonably free of clay. The term "drying" applied to sand means that it must have a normal moisture content of 3% to 8%. It should be from coarse to subdivided, through a 3/8 inch screen, and with a fineness modulus of 3.0 or less. Other fine aggregates such as stone powder, lightweight expanded shale, broken fire clay bricks, etc., must have the above grade of sand when solving specific work problems when necessary. The water used in the mixture should be fresh, clean and free of harmful amounts of oil, acid, alkali or organic matter. The projected concrete material should be mixed in the volume ratio of the cement portion to the three or four-part fine aggregate, depending on the required strength and tolerances on the volume. The material should be thoroughly mixed in a dry state before being placed in the equipment hopper. All debris or granules over 3/8 inch in size should be removed by sorting prior to placing the mixture in the equipment hopper.
Shotcrete advantage:
Strength
Density
Adhesion and adhesion
Weather resistance
Low water absorption
Wear resistance
Chemical resistance
Heat resistant