We have been engaged in the research and manufacture of industrial squeeze peristaltic hose pump
for many years. With our rich experience and professional knowledge, our company has developed rapidly in recent years and achieved fruitful results. Today, our company's
squeeze hose pump
has formed a very complete product series, with dozens of standard models and countless special models designed according to customer requirements. I
ndustrial squeeze peristaltic hose pump
s are widely used at home and abroad. In our
squeeze hose pump
, hose pumps are widely used in mortar, mud, acid, alkali and high viscosity materials, and can also be used as
hose pump
s can be used for pumping bentonite and mud fluid in TBM project.
The squeeze hose pump for metro project is usually mainly composed of pump hose, rotor, drum, idler gear, extrusion hose and driving unit. The extrusion hose is U-shaped in the pump chamber. When the rotor drives the drum to rotate, the hose will be deformed. After the drum rotates, the deformed hose is restored through its elasticity. Thus, the hose generates negative pressure, sucks the mud, and discharges it from the outlet under the push of the drum, and finally forms the pressure transmission of the mud.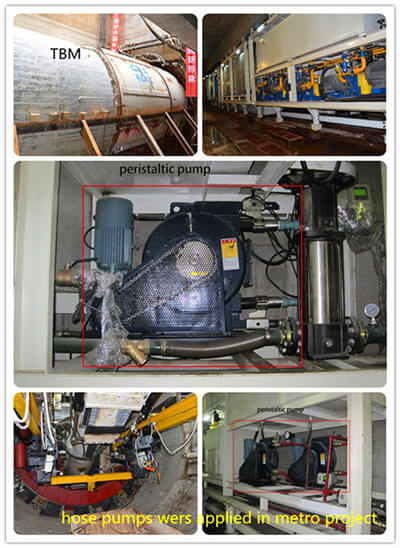 Compared with other types of pumps, the
s
queeze hose pump for metro project
is easy to operate and maintain. It only needs to squeeze the hose in contact with the material. In case of any problem, just replace the extrusion hose in time. Today, the Gaodetec
i
ndustrial squeeze peristaltic hose pump
is divided into China extrusion hose and France Trelleborg extrusion hose. China has the largest extrusion hose. The working pressure is 1.5MPa and the service life is about 800 hours, while the French Trelleborg extrusion hose is the largest. The working pressure is 3Mpa and the service life is about 1200 hours. According to different applications, extruded hoses are also divided into natural rubber hoses, nitrile rubber hoses, EPDM hoses and food grade hoses. For example, if a customer wants to pump milk and juice in the food industry, we recommend food grade extruded hoses.