Small portable rock mine drilling rig
2019-11-29 18:18:16
Small portable rock mine drilling rig
The essence of the small portable rock mine drilling rig is to infiltrate the impactor into the hole during the rock drilling process to reduce the energy loss caused by the impact energy transmitted by the drill rod, thereby reducing the influence of the hole depth on the rock drilling efficiency. Drilling equipment for downhole drilling is a downhole drilling rig. Our mobile down the hole drilling rig commonly use GD-70, GD-100 and GD-165 models.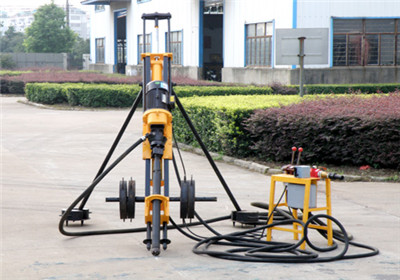 Among all the drilling method, man portable rock drilling machine is being used more and more widely and has very high efficiency for some cases. Here, we will introduce the specific application for DTH drilling as most import part of whole basic drilling knowledge.
For surface drilling -- mining
− Blast holes are production holes and will be filled with explosives.
− Drilling accuracy is important to obtain good and even distribution of the explosives in the rock.
− This will optimize fragmentation and facilitate further handling such as mucking, hauling and crushing.
− Pre-split and buffer holes are used for wall control.
− This method reduces the amount of waist rock excavation and also the risk of rock fall from pit walls.
− Usually smaller hole diameter than blast holes to carry less explosives.

Quarrying aggregate – limestone
− Many quarries are located close to urban areas and environmental regulations put restrictions on drilling parameters.
− Hole accuracy is important.

Construction – Civil Engineering
Typical drilling applications
− In civil engineering DTH drilling is used for a lot of different applications.
− Blast holes at construction sites used for removal of rock in road and railway projects, construction of HE plants etc.
− Foundation drilling methods are used to reinforce or stabilize rock and soil in different construction projects.
− Holes which is part of a structure or process created to stabilize and control rock and soil. Often used in combination with overburden drilling system.

Our small borehole drilling rig for balsting can drill both horizontal and vertical, easy to install and disassemble, can reach places where large mine drilling equipments can't get. If our mobile down the hole drilling rig suitable your needs, please contact us freely:info@gaodetec.com