Small concrete pump with diesel engine is used for in Africa
2019-03-11 16:31:13
GMP7/35 is a small concrete pump with diesel engine designed by our company. This product is a new multi-purpose, multi-purpose industrial pump developed by absorbing advanced technology from abroad. The output of machine is 7.5m3/h. The max. aggregate size could convey less than 20mm. The whole machine is controlled by hydraulic system. The proximity switch just controls the pendulum cylinder. We use a cemented carbide eyeglasses plate and cutting ring and polyether material piston, with super wear resistance and long service life. Machine has typical applications include masonry block filling, wall grout, hoisting mortar for masonry wall construction.


Concrete pump with diesel engine is the most durable, compact, efficient and versatile swing-tube engineered concrete grout pump available on the market today. Recently one set of small concrete pump and concrete mixer machine have been finished production. Two machine will be sent to Africa. As you know, mixer machine and concrete pump are a perfect combination with mixing and pumping concrete/mortar materials in construction. Firstly according to material ratio, put materials into mixer to mix well. Then concrete pump deliver the materials to where you want it to be pumped. Concrete pump operation and related personnel must carefully study and comply with the requirements of this manual, so that not only can effectively use the pump and achieve the best economic benefits, but also to avoid mechanical damage and accidents.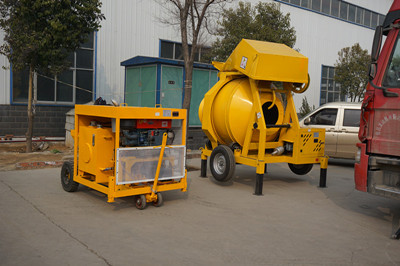 Concrete pump in Africa can use the direct pumping water method to clean the pipeline, its operation method is as follows: after the end of pumping, disassemble the pump outlet vertebral canal to clean. Then the sponge ball is loaded into the spinal canal, the hopper door is opened to release the residual material in the hopper, and the residual material in the concrete cylinder is discharged by the reverse pump. The hopper and s-pipe are washed with water, and the hopper door is closed to install the water of the spinal canal pump until the sponge ball is pumped out from the outlet at the end of the pipe.