Gaodetec RCH Series Single Acting Hydraulic Hollow Jack for Sale
2019-11-11 16:08:16
Single acting hollow plunger jacks are widely used for machining and maintenance of traction operations. In the work that needs to be towed, the special hollow piston design enables the drawbar or cable to work through the entire jack. It is often used for backward and forward extrusion in various press and mechanical traction systems. It can also be used for routine lifting operations when equipped with an interchangeable steel reinforced piston base.
Single acting hydraulic hollow jack for sale


Application of single acting hydraulic hollow jack: industrial tools
Hollow plunger designed to withstand tension and thrust
Single acting spring reset
Nickel-plated floating center tube over 20 tons for extended product life
Enamel baking finish for improved corrosion resistance
Includes coupler with 1/4" port or 3/8" port
Single acting hydraulic hollow plunger jack with lifting capacity of 12-100 tons and stroke of 8-200mm, it can be customized according to needs. Equipped with a handle for no stress movement between uses. Accessories include: a cylinder with internal threaded quick coupling ("cylinder connector"), a electric hydraulic pump, a piece of 6 meter high pressure oil hose, a pressure gauge and a pressure gauge adapter.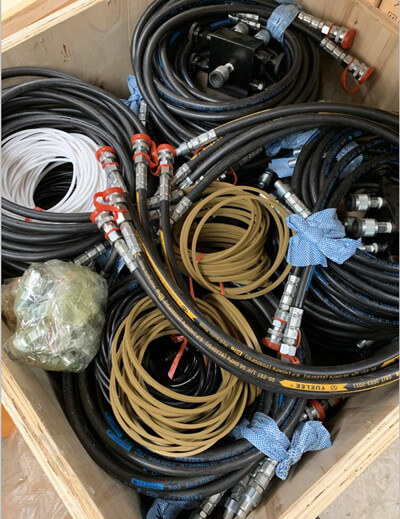 General purpose standard of hydraulic hollow jack - designed for use in all positions; one-way oil flow raises the plunger; steel spring return device retracts the plunger; made of alloy steel; durable coated cylinder block; comes standard with snap ring , anti-side load bearing, plated plunger and quick connect fluid port; including connector with dust cap - for external hand pump or electric pump; the maximum working pressure: 10,000 psi.
For pumping single acting hydraulic jack - integrated hydraulic oil reservoir alloy steel cylinder empty, pump delivers a large amount of oil for fast cylinder speed, meshing load, pump automatically switches to slower high pressure boost phase, highest available Oil-free handle strokes per job - displacement per stroke - use the pump lock handle to pick and place - rated discharge pressure is 10,000 psi-3/8" NPTF outlet port.