Pressure grouting machine manufacturers
2018-08-06 18:24:52
How to find one pressure grouting machine manufacturers in China.
Please collect https://www.gaodetec.com/grout-pump-and-mixer in your computer. Any time when you want grout pump, you could find the grouting machine manufacturer.
How to choose one suitable pressure grouting machine, please send email to info@gaodetec.com or call to or send messages to +86-15903613994 for more information and without any hesitation.
Gaode Equipment is one leading pressure grouting machine manufacturer in China, now has many types grout pump, high shear grout mixer, grout plant etc. grout machine for sale.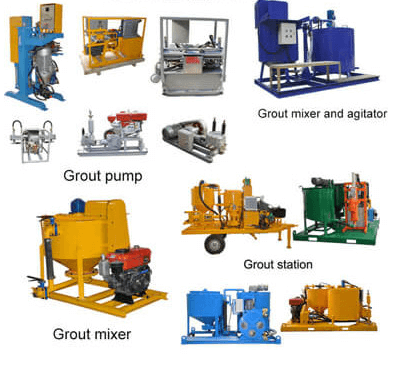 How do you think of Gaode Equipment grout machine?
If you want one right grout machine for your project, please help us to confirm the following points:
1. What project will use the grout machine for, dam grouting, tunnel grouting or other?
2. What is the pressure do you demands?
3. What is the flow do you demands?
4. Would you like the grouting machine with electric motor or diesel engine?
If want the cement grouting pump wok with electric motor, also please confirm the voltage in the worksite.
5. For the grout machine, do you just want grout pump? Or also need grout mixer, and agitator, or want one mixer agitator pump all in one machine?
Send your answers and demands to info@gaodetec.com +86-15903613994 for more suitable type and the best price.
If you don't know these information, also please don't worry, Gaodetec also has its own technical team and with research and development ability, please send your project demands on the grout machine, we will recommend the suitable type or design suitable grouting machine according to your demands.
Such as one of our Thailand client tell us they need one grout pump, but he didn't know which one more suitable for his projects, so he send us the projects demands, and tell us they need the grout machine flow 0-80L/min,
Pressure 0-50Bar, and no jerks when grouting. Our salesman tell these information to our technical department, they offer one solution according to these requirement, then our salesman send the solution to our client, after discussing, we amended some details, at last, they place order to us for 3 sets grout machine in 2nd week of April.
https://www.gaodetec.com/grout-pump-and-mixer/double-plunger-hydraulic-grouting-pump.html
Please check the link and following photos for more information of the customized grout machine.

So any question or any demands on the grout machine, please contact us without any hesitation, once confirm the detailed needs on the grout machine, more better solution will be offered to you at first time.
Contact us now for more information for your grouting business now!!!