Pneumatic gunite machine price
2018-04-23 15:57:28
Pneumatic gunite machine, also named pneumatic concrete guniting machine, mainly used for dry-mix concrete and damp-mix, and wet mix concrete spraying operation.
It is widely used for concrete pump spraying working in building, mining, culvert, subway, hydropower engineering, underground excavation engineering, swimming pool building, slope protection etc. projects. According to the drive type of gunite machine, it can be divided into three types, pneumatic gunite machine, diesel gunite machine and electric gunite machine
It has some obvious advantages such as advanced technology, perfect structure, stable performance, convenient operation and longevity of service etc.
Gunite machine composition:
1. Injection system.
2. Electrical control system.
3. The driving gear (main motor, reducer, etc.).
4. The wind road system.
5. Walking system.
6. The rotor assembly (turn daughter, cavity, the rotor plate, etc.).
Today introduce for you is pneumatic gunite machine. Pneumatic gunite machine is widely used in building wall slope, slope protection, without harmful gas such as tunnel construction and concrete spraying, it is mainly used for slope protection spray anchor reinforcement, foundation pit, tunnel anchor.
Gaodetec pneumatic gunite machine as follows: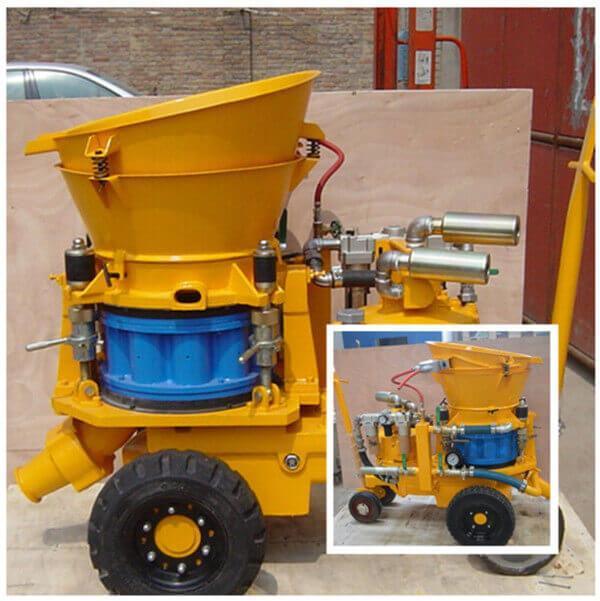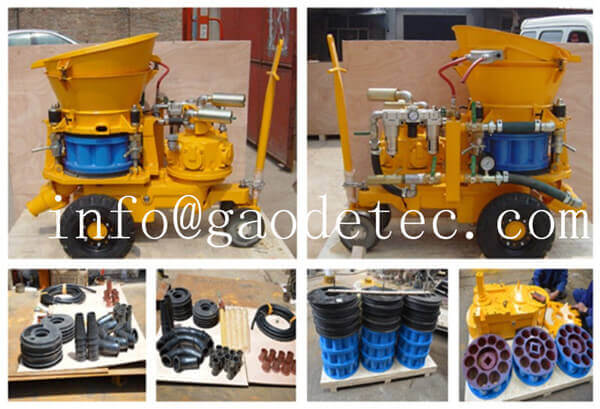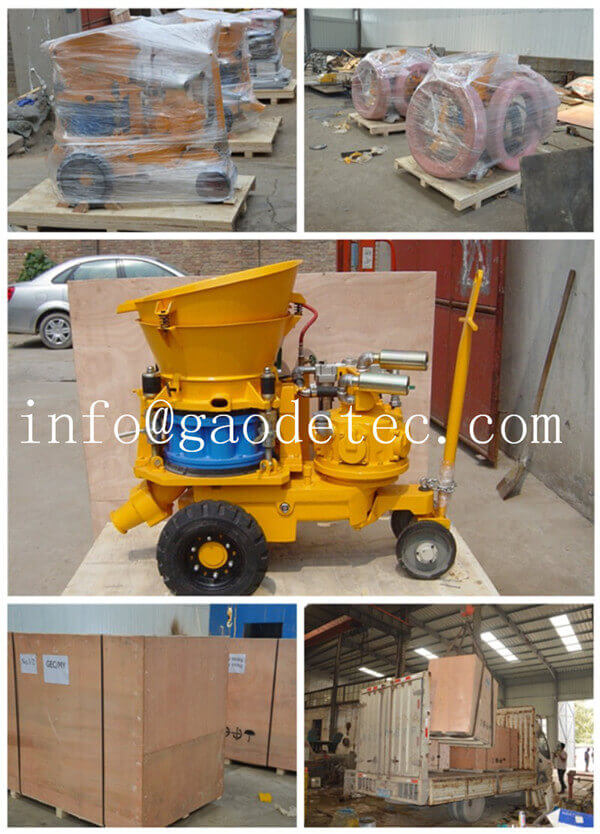 Features pneumatic gunite machine:
1. Machine chassis can be assembled into tire, slide rail wheel type and a variety of indicators.
2. Elastic compensation voltage is 4 o 'clock, good sealing effect, small aircraft, components, long service life.
3. Through the rotor cavity type is not binding material, unobstructed, effective save time.
4. New type of nozzle, discharge elbow equipment, improve the effect of spray coating, springback is small, the high quality of the spray layer.
5. Using high speed low pressure vortex air delivery, overcome the welding material conveying, wall tube and pulse.
Principle of pneumatic gunite machine:
1. Mixing machine mixing material discharging mouth (or artificial mixing and feeding) after hopper sieve net jet.
2. Feed by telephone dial directly to the rotor cavity, the rotor vortex of the unloading port.
3. Here from the gas into the air, hit the material discharge elbow, cyclone introduced another wind pressure, long spiral wind supply, acceleration, and makes it spin, plankton, feeding tube.
4. Shower, and then add a small amount of water spray (trend) or liquid accelerator (wet) injection.
Pneumatic gunite machine price:
Gaodetec pneumatic gunite machine price is good, if you want to have a pneumatic gunite machine price, you can tell me freely, Gaodetec pneumatic gunite machine email address is
info@gaodetec.com
. We are looking forward to hearing from you.