Diesel Concrete Pump With Mixer Company Sale to Philippines
2018-04-21 14:22:35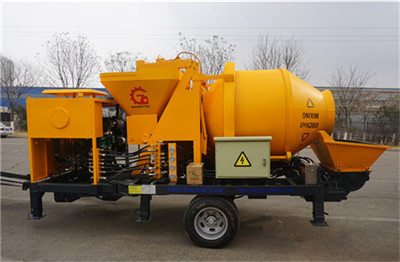 Concrete mixer with pump is a coalition of concrete pump and drum type concrete mixer. In order to reduce cost and complex operation process, make operation more easy, faster and automatic, the concrete mixer pump adopts full hydraulic double cylinder pump system, it increase the reliable. And in order to meet client's requirement without electric supply, the machine with 66KW diesel engine, very powerful. Recently we delivered a
JBT30-P2 diesel concrete pump with mixer
to Philippines.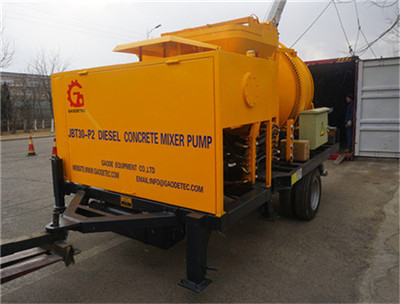 The concrete pump with mixer company can mix stone, sand and cement, it also can be used for mixing mortar. And it also could add coal ask according to requirement. So the machine can mixture all the material at work site.
The diesel concrete mixer with pump can mix kinds of concrete and mortar, and the proportion of stone, sand and cement meet project requirement, making whole system's efficiency higher.



The diesel concrete mixer with pump company with wheels, easy movement and convenient to local. Its four legs can be fixed when working, more steady and reliable. Its electric cabinet is matched with remote handle, all the operation can remotely feeder, pump, make machine more humanity. The diesel concrete pump with mixer adopts smooth S valve, could meet convey concrete and not easily plugged. The material of eyeglass plate and cutting ring adopts high hardness alloy material, longer life. High outlet pressure could meet convey requirement for high building and remote distance. High wearable concrete cylinder, which increase life and reduce the maintain cost.


Why our diesel concrete mixer with pump is so popular? a. the machine is the connection of concrete pump with mixer, higher efficiency; b. the machine adopts JZC drum type concrete mixer, bigger capacity and better mixing; c. the whole design, the machine occupy litter space, more convenient move; d. electric system is controlled by company, more steady and reliable, higher automatic; lubrication system is controlled by company, little oil consumption, lower use cost but higher automatic; advance swing oil cylinder, thrust increase 50%, make S valve quick. It's much wider for small stone.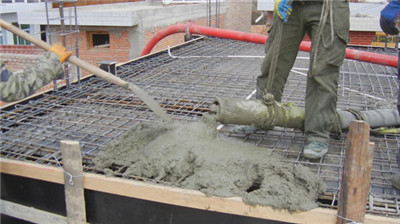 The following is attentions about maintain, user must notice that, which related with the life of concrete mixer with pump. The maintain is good or bad, it is in direct proportion with its life. As long as you operate the machine as per manual, its life must be longer. Firstly, please don't change or tear down its original safe device, non-professional technician don't repair the machine; secondly, please don't tear the machine without allow, especially, the main parts, for example mixing drum, kinds of valve units, main oil pump, main oil cylinder, swing oil cylinder, mixing system, etc. If it is necessary, professional must be at work site; thirdly, the situation of conveying pipe and steel wire must be checked everyday, if it is necessary, please change it at once; spare parts must choose quality goods, avoiding plugged because of wrong operation.
Hope each diesel concrete mixer with pump make you satisfied, and all the project proceed smoothly.