YB series
plate and frame filter press supporting pump
is a positive displacement pump with hydraulically driven parallel bars and double acting. Using α-type alumina as the plunger, it has extremely high wear resistance and corrosion resistance. The
plate and frame filter press used pump
has stable and reliable operation, high output pressure and accurate metering, small pressure fluctuation, low noise, acid and alkali resistance, convenient operation and maintenance, and easy operation and maintenance. Long life and other characteristics, it is an ideal product for various types of solid-liquid separation when used with filter presses. Compared with centrifugal pump, screw pump and rotor pump, this pump has the following advantages: low pressure power, low wear and long life, adjustable constant temperature function, maintenance cost is only one tenth of centrifugal pump, screw pump and rotor pump , reducing the cost of use and power consumption for users.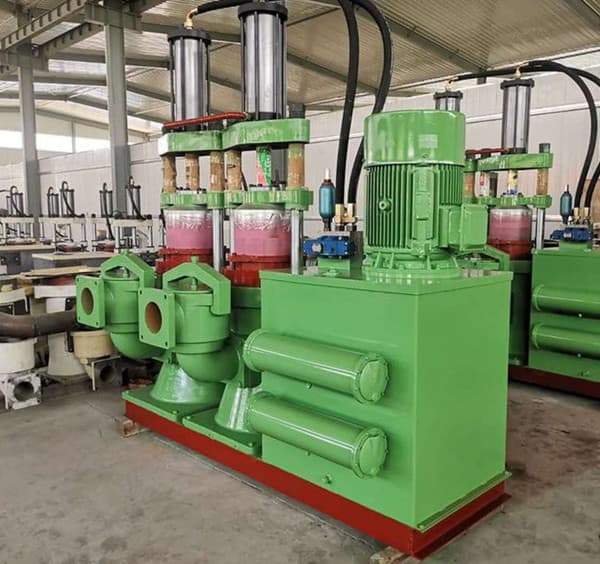 The
plate and frame filter press used pump
can automatically control the output flow and keep the set pressure unchanged. Set a pressure value according to the actual working conditions. When the pressure rises to the set value, the pressure stops rising. At this time, the flow of the
ceramic plunger pump for filter press
can be adjusted between zero and maximum flow according to It is actually necessary to automatically change the operating speed and keep the set pressure constant. Driven by hydraulic pressure, the pressure is high, the pressure adjustment is fast and accurate, and the operation is stable. The α-type alumina ceramic plunger is used for less wear, convenient operation, installation and maintenance, low cost of use and long service life.
Uses: It is used for spray drying of ceramic mud, high pressure spray combustion of coal water slurry, clean (sewage) water, long-distance transportation of various suspended liquids, mud, and sand-containing liquids, and can also be used for filter press feeding.