Advantages of GAODETEC new mortar fine stone pump
2018-10-22 09:45:42
Gaode mortar stone pump is a high-performance cement mortar pump widely used in pressure grouting, mortar transportation, concrete grouting and large particles in highways, railways, bridges, municipalities, construction, tunnels, ports, water conservancy, mines, etc. Mortar pump grouting and spraying work has the characteristics of large working pressure, strong conveying capacity, high grouting efficiency, stable spraying and firm application.



Advantages of Gaode new mortar fine stone pump:
1. The power system, hydraulic system and pumping system are matched properly, and the motor power is effectively utilized.
2. High suction, the actual pumping efficiency reaches the theoretical value of more than 80%.
3. More optimized configuration, using imported hydraulic parts and electrical components, greatly improving the reliability of equipment use.
4. Unique distribution oil channel buffer technology to ensure S tube swing in place and extend S tube life.
5. High and low voltage switching applications simplify operation.
6. Lubrication mortar pump system adopts forced filtration and pre-pressure double-pump energy-saving automatic centralized oil supply system, which provides sufficient oil supply, better lubrication effect and saves consumption, and consumes more than 50% of consumption compared with ordinary continuous oil injection.
7. The application of new wear-resistant materials and welding processes, the service life of commonly used wearing parts is doubled.
8. The power system adopts the international brand hydraulic main pump, and the motor uses domestic famous brands to provide strong power.
9. The hydraulic system's unique open hydraulic system and proprietary hydraulic buffering technology make the system have less commutation impact and less heat.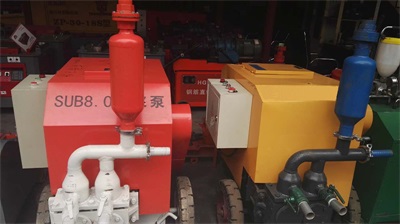 At the same time, the international famous brand heavy-duty hydraulic main pump and hydraulic valve are selected. The main mortar pump has a large displacement and the hydraulic valve has a large diameter to ensure the safety and reliability of the pump.
The new mortar fine stone pump is a kind of equipment specially designed to transport fine stone concrete combined with the advantages of various concrete pumps, and he has obtained national patents. His advantages are mainly reflected in the backfilling of fine stone concrete mortar or The construction work of the floor heating building is particularly prominent, which saves manpower and improves efficiency.
The mortar and fine stone pump reduces labor costs. Compared with the traditional construction method using the elevator, the loading of the elevator is easy to damage the pipeline, and the fine stone pump does not have this trouble.