Membrane filter press used in stone polishing effluent
2018-07-23 15:27:53
Membrane filter press, is a filter press with an elastic membrane between the filter plate and the filter cloth. During use, when the feeding is finished, a high-pressure fluid or gas medium can be injected into the membrane plate, the pressure could reach up to 0.8-2.0Mpa. And the entire membrane will bulge the filter cake, thereby achieve further dewatering the filter cake, which is commonly referred to membrane press filtration.

Diaphragm filter press has advantages of high pressing pressure, good corrosion resistance, safe and reliable. It's the first choice for customers in metallurgy, gas, paper, coking, pharmaceutical, food, brewing, fine chemicals, etc. Now membrane filter equipment is widely used in various areas requiring solid-liquid separation. Diaphragm filter presses are considered an alternative upgrade to conventional filter presses.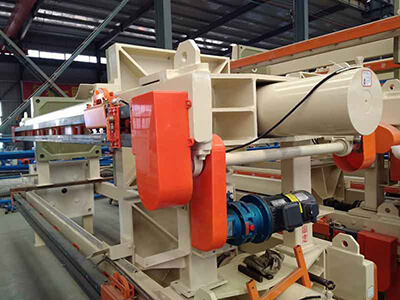 When this filter press machine is used in sludge and sewage treatment, the moisture content of filter cake can be below 30%. Compared with the traditional chamber filter press, the solid content of the filter cake can be increased by more than 2 times and the filter cake transportation cost is greatly reduced. Thus the filter cake can be directly burned into the power plant, the sludge is turned into resources, and the sewage becomes clear spring, completely replaced. The box filter press.
Below is the whole diaphragm filter press ordered by our Australia client. He used it for stone polishing effluent. Under our client's requirement of full automatic, we add the electric feeding valve, membrane pressing inlet valve and outlet valve, feeding pump, ail blowing valve, filtrate water tank, conveying water pump and set the corresponding program on PLC. Then when we choose full automatic on touch panel, the whole system could complete press, feeding material, membrane press, air blowing, conveying filtrate water, return back, take and pull plate automatically. Below is the filter cake filtered by our machine.