Hydroseeding machine for landscaping in Turkey
2021-10-05 07:55:08
Hydroseeding machine for landscaping in Turkey

Our hydroseeding machine can be used for landscaping in Turkey. Landscaping is a beautiful natural environment and recreational area created by the application of engineering technology and artistic methods in the area, through the transformation of the terrain (or further building mountains, stacking stones, and arranging water), planting trees and flowers, building buildings, and laying out garden roads. It is called a garden. The landscaping project mainly includes: balance and arrangement of garden earth and stone, garden civil construction, garden decoration construction, woodwork, steel structure, small landscape architecture, large and small tree planting, shrub planting, flower planting, and greening maintenance projects.


As the advantages of this fast and effective seeding method have spread throughout the landscaping industry, hydraulic seeding technology has become more widespread. With tens of thousands of landscaping contractors nationwide, small and medium-sized landscaping companies are exploring hydraulic planters to expand services and develop businesses.
Although hydraulic seeding may seem simple, there are many factors to consider before buying or renting equipment. It's not just simply mixing some water, seeds, mulch and fertilizer and spraying it on the ground. If you have considered adding hydraulic seeding to your company's service products, then you can learn about our company's hydroseeding machines.
The size of the water tank of our hydroseeding machines for landscaping ranges from about 3000L in the GHS0353 hydroseeding machine to nearly 15000L in the GHS15190 hydroseeding machine, and the discharge distance is 60m to 85m. Naturally, the size of the project will affect the size of the hydroseeding machine for landscaping most suitable for the project. A multi-acre job site will require a larger unit to reduce the number of stops to refill the tank. On the other hand, the small and medium-sized gardening contractor business that provides seeds for residences and small places is likely to use smaller equipment to provide services to customers.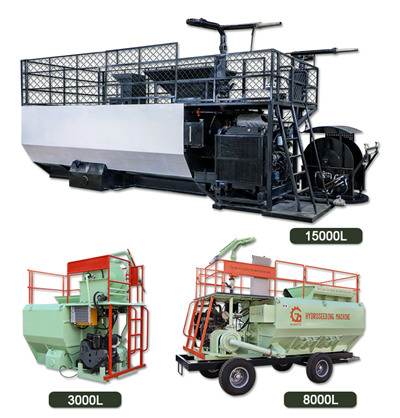 The location of the work site and available water sources are also important factors. Multi-axle trucks are usually used to tow larger, skid-mounted hydraulic planters. Small and medium hydroseeding machine for landscaping can be provided with trailer or skid configuration, and the smallest unit can be installed in the bed of a pickup truck. Everyone needs to consider carefully, and then choose the hydroseeding machine for landscaping that best suits your project and business needs.
The hydroseeding machine for landscaping uses a mixture of water, grass seeds, mulch and fertilizer to make slurry through a powerful agitator. Spray the mixture through a hose or boom onto the prepared ground to start planting vegetation and promote erosion control. The type of covering required on the site will vary according to different factors, and the type of covering will determine which hydroseeding machine for landscaping is suitable for the job.
Covering materials include wood cover, paper cover, wood and paper mixture, bonded fiber matrix (BFM) and flexible growth matrix (FGM). Additives and tackifiers can also be added to the mixture. The tackifier helps the slurry mixture stick to the construction area to prevent the construction material from slipping. For example, in work sites with hills and dikes, thick slurry with a thickener will be required to ensure that the mulch and seeds stick to the slopes.
If you want to learn more about hydroseeding machine for landscaping in Turkey, please contact us freely, info@gaodetec.com.