Prestressing equipment hydraulic post tension jack
2019-01-30 09:53:00
1. Product name: prestressing post tension jack
Model: YDC2500
Brand: Gaodetec
Manufacturer: Gaode Equipment Co., Ltd.
Our hydraulic post tension jack is easily operation and control double acting hollow hydraulic jack, especially large engineering, it has safe keep pressure device, it also has release pressure device in its inner, prevent to over loading. It could protect hydraulic jack, it is good to operation. The connection of this post tension prestressing jack adopts high pressure oil hose and thread couplers, quickly and convenient, it can overcome the problem that traditional quick coupers leak. This post tension hydraulic jack is mainly used for lifting, pulling, pushing, discharging on electric supply, construction, manufacture, mining, rail bridge, ship, etc.
2. Related equipment 1: post tension electric hydraulic pump
Model: ZB2X2/50A, ZB2X1.5/63
Brand: Gaodetec
ZB2X2/50A and ZB2X1.5/63 electric hydraulic pump is plunger type electric high pressure oil pump, it is the operate part of hydraulic hollow jack. It is matched with QYC270 hydraulic jack for single pc strand and YDC series of hollow hydraulic jack and other related tension equipment. It also could be equipped with low flow but high pressure hydraulic jack and other hydraulic equipments.
3.Related equipment 2: prestressing anchor head / prestressing anchor ring
Model: YJM13 / YJM15 series
Specification: round anchor or flat anchor
Strand no.: from one hole to multi-strands
Customized: Yes
Including: anchor head/ring, wedges, anchor bearing plate, spiral reinforcement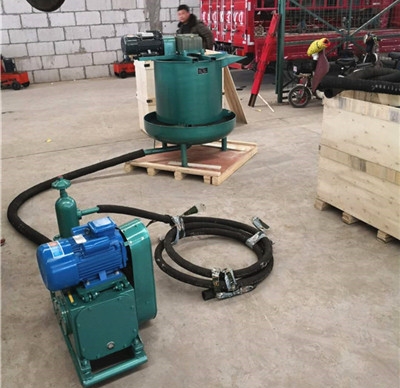 4.Production name: HB-3 gout pump and JB180 concrete mixer
HB-3 grout pump is working with JB180 concrete mixer, used for prefabricate, pouring channel grout and strengthening or maintain on construction, bridge, channel, etc.



5.Production name: prestressing bridge metal corrugated duct
Material: Galvanized steel strip
Application: corrugated duct is mainly used for grouting in the channel on highway, rail, municipal bridge engineering, high level bridge, water conservancy project, large steel plant construction (embedded bolt project) and large high-rise building project.