Hydraulic jack for post tension girder
2018-04-02 16:03:04
Today Gaodetec company sent to one set hydraulic jack and one set hand pump to Mexico City.
The hydraulic jack it is YDC3500type, 350ton, stroke 200mm, central diameter is 165mm, outside diameter is 400mm, inside diameter is 360mm, closed height is 415mm. the hand pump is 40L, working pressure is 63mpa, high Pressure flow is 2.3ml/time, low pressure flow is 12.5ml/time, oil capacity is 40L. Perfect match 350ton hydraulic jack, use for post tension girder. Our warranty is 2years, In terms of parameters, other company the central diameter fall short of 165mm, and if you need 350ton, they suggest you choose 370-400ton ,why did they to do that? because their tonnage not enough 350ton, less abouy 30ton. Can saves material and saves money.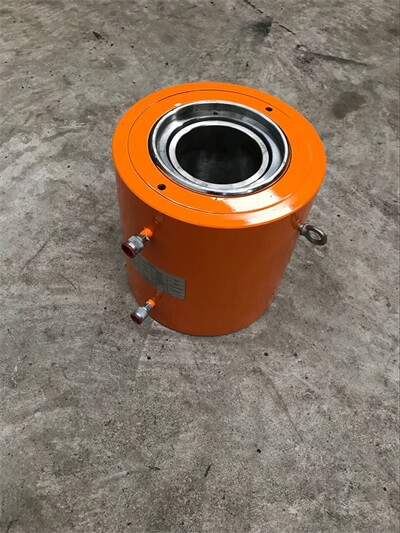 My company will not do this, because the quality is our culture, we are strict in production, never give up. You are always welcome to supervise. Our warranty is 2years.
The tensioning jack is a special jack for prestressing bars, such as tensile steel hinge lines.
The tensioning jack needs to be used with the tensioning oil pump, and the power of the tensioning and the back top is provided by the high pressure oil of the tensioning oil pump.
According to the different structure, it can be divided into the front card jack and the core jack.
The tensioning jack has a compact structure, stable work in tension, high oil pressure and large tensile force. It is widely used in prestressed construction projects such as highway Bridges, railway Bridges, hydroelectric DAMS and high-rise buildings.
The tension force of the prestressed tensioning jack is accurate or not, which will directly affect the engineering quality and safety production.
Therefore, it is very important to calibrate it and provide accurate and reliable test data.