We are a supplier and manufacturer of high viscosity peristaltic hose pump, we have more than 20 years of experience in manufacturing in this industry, our high viscosity peristaltic pumps have been exported to many countries, such as: UK, Belgium, Denmark, Germany, France, Norway, Finland, Romania, Sweden, Switzerland, Russia, United States, Canada, Mexico, Indonesia, Korea, Malaysia, Singapore, Vietnam, Thailand, Philippines, Argentina, Brazil, Chile, Colombia, Australia, New Zealand, United Arab Emirates, Saudi Arabia, Slovakia, Spain, Ireland, Italy, Hungary, Netherlands, Austria, Poland, Portugal and other countries.
How the high viscosity peristaltic pump works:

Its working principle is relatively simple. It transports gas, solid and liquid in a peristaltic manner. It is widely used in some industrial occasions with large flow and high output pressure. In addition, it also has a good self-priming ability, which can perfectly carry out vacuum suction, and transport high-viscosity and shear-sensitive media, which is also one of its tasks.
Advantages of high viscosity peristaltic hose pumps:


One is self-priming ability, and the other is very good for conveying high-viscosity, clip-sensitive media. In addition, it can be accurately metered, and at the same time, it is well sealed, it will not leak, and it will not cause pollution to the environment, and the probability of failure of this equipment is very low, and it has a very good service life. The other is that the flow and power of this equipment can be adjusted casually, which can play a better role in saving energy consumption.
The first priority for designers and users of a high viscosity peristaltic pump is its ability to deliver highly abrasive media. It has no valve and no seal, the only part in contact with the medium is the inner cavity of the rubber hose, and the rotor of the compressed hose is completely independent of the medium.
At present, our high viscosity peristaltic pump for sale includes many models, the displacement range is: 0.01~50m3/h.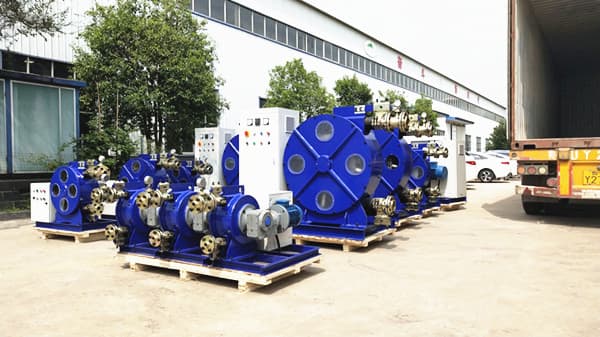 We can provide you with custom hose pump services, the customization range is:
Trelleborg squeeze hose, Voltage, ABB frequency converter and electric control box, wheels.
If you need to buy a high viscosity peristaltic pump for sale for gold smelting, non-ferrous smelting, chemical industry, mining, food processing, brewing, ceramics, water treatment and other industries. Please choose a famous hose pump manufacturer, supplier from China - Gaodetec Equipment.
You can contact us by leaving a message on the website, chatting or emailing us directly, and get quotes, information, videos, etc. Email address:
info@gaodetec.com
.