ClC plant lightweight foamed concrete machine
2018-11-21 09:31:21
Regarding the construction process of foamed concrete, I don't know how many friends have an understanding. The following is a brief introduction to the small series. I hope that it will help you to properly carry out foam concrete construction!
Foamed concrete is a lightweight insulation material that is now used in many locations.
Foamed concrete construction usually based on some useful machines, so that machine is most important.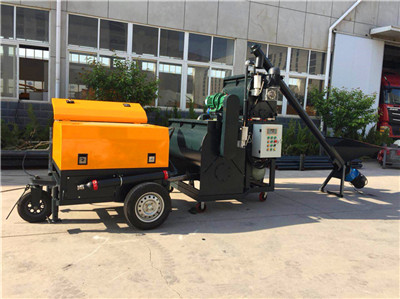 1. Foamed concrete construction should first clean the base waste and sprinkle it with water before pouring the lightweight block.
2. Foamed concrete construction should be based on the horizontal standard line and design thickness, and the upper level elevation control line of the surface layer should be ejected on the surrounding walls and columns.
3. The mix ratio of foamed concrete construction to concrete should be determined through experiments according to design requirements. The feeding must be strictly overweight, and the mixing ratio should be precisely controlled. The order of feeding is cement, sand, foaming agent and water.
4. Before the construction of foamed concrete, the base should be wetted, and a plain cement slurry or interface bonding agent should be brushed on the base. The evenly stirred concrete should be laid out from the room and applied to the concrete at low pressure when vibrating or rolling. Fill up. When the surface layer of the gray surface absorbs water, it is beaten and smoothed with a wooden trowel.

5. The first time the foamed concrete construction is pressed, gently wipe it with a steel trowel until the pulp is released. After the second pass, after the initial layer of mortar is first set, use the iron trowel to fill the pits and sand holes, paying attention to no leakage.
The third pass is applied. Before the final layer of mortar is finally set, the iron trowel is pressed hard, and all the embossing is pressed and pressed to achieve a dense and smooth surface.
If you want to make lightweight block, you could also use our lightweight block foamed concrete machine. Of course, we also provide CLC blocks moulds.