The advantages of foam concrete to floor heating
2018-04-16 11:18:54
1. Heat dissipation is uniform and comfortable: The heating principle of the floor heating system is radiant heat transfer. Compared with air conditioning, heating, etc. through forced convection cycle hot air heating, the dust flow in the air is much smaller, reducing the spread of harmful bacteria in the air, indoor. The environment is more hygienic and clean. The floor heating system also creatively uses the warmth characteristics of the human body. The care from the feet makes you feel more comfortable.
2.Environmental protection and energy conservation: Compared with the traditional convection heating method, the energy saving of floor heating system is about 30%, and the heat loss during floor heating is small and the heat concentration is within the height of human body benefit, even if the indoor set temperature is higher than convection. The low heating rate of 2 to 5°C can also make people feel the same warmth. To warm the floor can fully save energy, and will not emit any noise, will not raise dust, is an environmentally friendly energy-saving products.
3. Safe and reliable: to warm the acid and alkali salt corrosion, high pressure, high temperature resistance, penetration resistance, no rust, no tube scaling, the tube remains smooth, friction is small, to maintain good water quality, is non-toxic and environmentally friendly product.
4.Efficient sound insulation: The use of prefabricated panels or cast-in-place boards, which has poor sound insulation, affects the downstairs while moving upstairs, uses floor heating to increase the insulation layer, has a very good sound insulation effect, can reduce noise pollution, during heating Without any noise, it is beneficial to the family's physical and mental health.


GF10 lightweight foam concrete making machine includes a feeder, a mixer and a pump. There is a foaming system inside of the pump, and the foam pump can draw water and foam agent automatically and then mix them in a set proportion, so the lightweight foam concrete making machine is very labor-saving and easy operation for floor heating construction.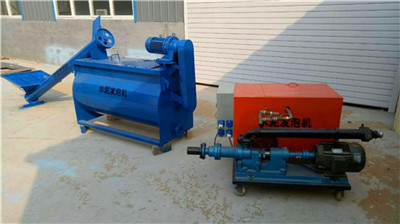 Advantages of lightweight foam concrete making machine:
1. The lightweight foam concrete making machine uses high pressure screw pump, can convey max height of 30-40 meters.

2.The lightweight foam concrete making machine is easy to operate, the bubble will be produced once switched on.

3. The power of the lightweight foam concrete making machine can be adjusted based on customer request. Our foam concrete machine can reduce the noise, reduce the dosage of the foaming agent, thereby reduce power consumption.