Electric portable concrete mixer for sale
2018-05-05 11:54:21
In order to improve the overall efficiency of the on-site self-mixing concrete, our company has independently designed and developed an electric portable concrete mixer machine. This equipment is a conveying equipment that combines the mixing and pumping, and reduces the cost pressure and cumbersome operating procedures for customers. It makes customers' operations easier, more convenient, and more automated. The equipment adopts a full hydraulic double cylinder pumping system, which greatly improves the overall reliability of the machine. The portable concrete mixer for sale has many advantages such as compact structure, reasonable operation, stable operation, energy saving and environmental protection, long distance transmission, convenient movement, convenient maintenance and low use cost.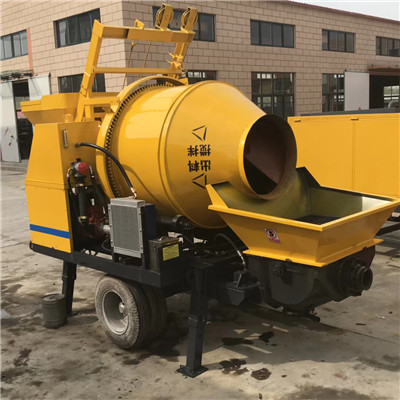 The main components: First, the drum mixer, Second, the concrete pump. The portable concrete mixer machine can stir concrete containing stones, sand, and cement. It can also be used to stir mortar. Fourth material such as fly ash can also be added as required, and it is suitable for on-site mixing at the construction site.
Technical advantages of electric mini concrete mixer:
1. It integrates stirring and pumping to make users more convenient for high-efficiency construction.
2. It adopts JZC type mixer with large stirring capacity and good stirring effect.
3, integrated design, so that the device takes up less space, mobile and flexible.
4. The electrical system adopts computer control, stable and reliable performance, and high degree of automation.
5. Lubrication system adopts computer automatic control, low fuel consumption, low use cost and high degree of automation.
6. Advanced oscillating oil cylinders increase the thrust by 50%, making the S tube oscillating quickly and reliably. The application scope of fine stone concrete is more extensive.