Dry-wet function shotcrete machine for sale
2021-09-16 17:43:31
GSZ3000 shotcrete machine is a shotcrete machine with dry and wet function, which can be dry sprayed and wet sprayed.
Although both wet shotcrete and dry shotcrete have specific benefits, the progress of both.
Materials and equipment technology make these two processes almost interchangeable. D
ry-wet function shotcrete machines
are mainly used for wet shotcreting of tunnel construction, mines, and slopes.


Compared with dry spraying machine, GSZ3000
dry-wet function
concrete spraying machine can reduce dust, obtain high-strength concrete, equipped with accelerator or other liquid dosing pump. The design of high-strength wear-resistant sealing plate and rotor disc ensures the service life of the equipment.
This GSZ3000 dry-wet function shotcrete machine is a track wheel specially designed for our customers in UAE. It will be sent to Qingdao Port on January 15, 2021.
GSZ3000 dry-wet function shotcrete machine has three driving modes: electric motor, pneumatic motor and diesel engine.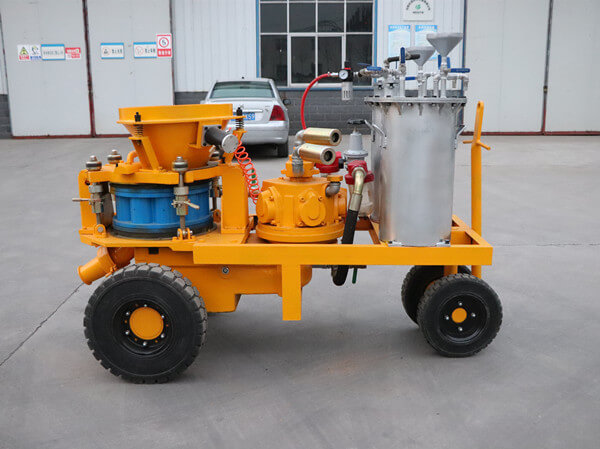 In most applications, the preferred method is determined by the following factors:
2. Availability of materials and equipment;
4. The contractor's expertise and preferences.
Today, regardless of whether the wet method or the dry method is used, the rebound level, dust level, and properties such as adhesive strength, compressive strength, and durability may be similar.

All ingredients, including water, are thoroughly mixed and introduced into the conveying equipment. The wet material is pumped to the nozzle where it is compressed
Add air to provide high speed for placement and reinforcement
Dry shotcrete construction method:
Put the pre-mixed dry or wet material into the conveying equipment. The compressed air transports the material through the hose at high speed to the nozzle, where water is added. The material is consolidated on the receiving surface with high impact velocity.
2. Economical and effective concrete pouring method;
3. Ideal for irregular surface applications; and
4. Allows easier handling of materials in hard-to-access areas.
The difference between dry spray process and wet spray process:
1. No water is added during the hole mixing and dry spraying process to form a solid mixture. The wet spray process must be based on the proportion of water to form a fluid mixture.
2. Due to the different transportation methods formed in the two processes of formation of the mixture, the transportation method is different. The dry spray mixture transportation requirements are relatively simple, and it can be transported by shuttle or mine carts. Wet spray must use crawlers. Concrete truck.
3. The addition amount of accelerator is different. The dry spray process uses solid accelerators. Wet spray process uses one kind of liquid accelerator, but there is a price gap between the two accelerators.
4. Use different spray equipment. The dry spraying process uses a dry spraying machine, and the wet spraying process uses a wet spraying machine. There is a large price gap between the two equipment.
5. The feeding method of the injection equipment is different because the dry spray is mixed with the solid. Manual feeding and wet spraying are required. Because it is a concrete tanker, it can be directly connected to the equipment without manual feeding.

Wet spraying and dry spraying processes are mainly distinguished from the above aspects, which does not mean that wet spraying operations are regarded as wet spraying operations in construction operations using wet spraying machines.
If you want to know more about
dry-wet function shotcrete machine
s or have the same demand, please contact us directly (Email address:
info@gaodetec.com
).