China dry mix refractory gunning machine
2018-12-29 09:27:09
China refractory gunning machine is a well-proven procedure by which refractory material and castable can be applied quickly and cheaply.
China dry mix refractory gunning machine is used for the hot repair of ladles and melting furnaces as well as relining or cold repair of the back lining.
With dry gunning the material is discharged from the machine with a maximum of 5% moisture and then fed to the gunning nozzle by an air stream where the required water, typically 5–10%, is added.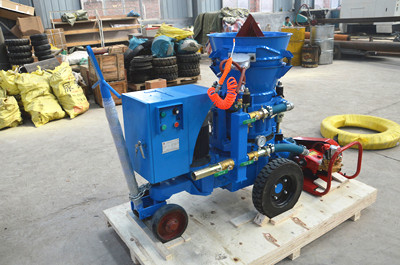 Compared with dry mix refractory gunning machine, wet gunning has some problem. Such as, the machine or the gunning hose may get clogged by already moistened refractory material, particularly when not in continuous use; So the wet process must be carefully controlled.
Also, machine requires more intensive cleaning and is not recommend an efficient operation for applications less than 400kg. For dry gunning, blockages in the conveying hose can be blown free by compressed air only.
There is three essential requirements for a good gunning repair. like optimal moistening, homogeneous mixing of the gunning material with water, and a high quality china dry refractory gunning machine that guarantees even conveying.



With pre-moistening a share of the gunning water is added some meters away from the gunning nozzle and relies on the turbulence within the conveyance for premixing. This approach, however, is very susceptible to operational problems.
For instance if too much water is added in advance this can lead to clogging, particularly with quick binding systems where hardening starts inside the hose. Too much water reduces refractory quality and refractory lifetime.
Also, the water can dissociate in the liquid steel to hydrogen, which can be detrimental to some steel grades (micro-cracks).
With standard mixing heads (for dry gunning) the water is jetted through radial holes and, in order to compensate for inadequate initial moistening, the operator often works with a surplus of water so that the dust is reduced.
This, however, often leads to use of an incorrect water/cement ratio, resulting in reduced refractory durability.
Improvements have been achieved by use of pressure increasing high pressure water pumps so that the water jet has become sharper and more readily reaches the centre of the nozzle cross section.