Diaphragm filter press can also called membrane filter press, this type filter press is one kind filter press that using the membrane filter plates. During the diaphragm filter press operation process, in the end of feeding the material, high pressure liquid or gas (0.8-2.0mpa) medium can enter into membrane plate, then the whole membrane will expand to compress filter cake, and filter cake will be further dewatered, which is usually called membrane squeeze.
4. Squeeze can choose air, inert gas, water, oil and other fluid media to meet the needs of different industries.
5. The structure is made of high-quality carbon steel Q345b and processed with sandblasting to remove rust and getting higher intensity and corrosion resistance.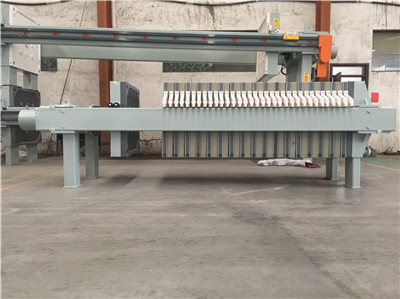 This diaphragm filter press is widely used in sewage treatment, various concentrates and tailings, metallurgy, chemical, pharmaceutical, food, ceramics and other industries and fields. Especially for viscous materials, it has a unique filtering effect, such as municipal wastewater, printing and dyeing wastewater, fine chemicals, etc. The diaphragm filter press for ceramic clay slurry has a very good performance.