Analysis of density and strength ratio of foam concrete
2019-05-06 17:51:58
Foam cement plant can be used to make foam concrete roof, and foam concrete roof made by foam cement plant can let you live in a comfortable house, you can feel cool in summer, feel warm in winter.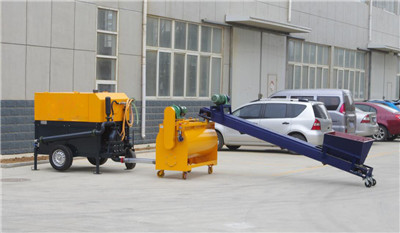 Compared with ordinary cement mortar or concrete, the foam concrete slurry has a large amount of foam in the foam concrete, and the liquefaction rate is high. The cast-in-place inclined roof is easy to flow and the adhesion is not strong. Even if it can cover, it is only 1-2 cm, such as The surface of the aluminum foil surface construction waterproof material or other waterproof material is easier to slip and more difficult to succeed. On a horizontal roof, it is difficult to reach a level of 30 cm.
The ordinary cement used for foam concrete construction is used as the foam concrete for the condensed rubber. The initial setting time is expected to be ≤ 60 minutes, and the final setting time is ≤ 10 hours. The foamed concrete is porous, has low density, poor water retention and high bleeding rate. The thin layer of foam concrete on the inclined surface is easy to lose water before final condensation, and the water is too late to participate in the hydration reaction, that is, the slope is lost or the surface is evaporated. Therefore, the pore structure is easily broken, the cement is dried, and the surface is powdered.
Cast-in-place foam concrete ordinary Portland cement or composite Portland cement, primary or secondary fly ash, common foaming agent, blending agent, etc. Market foam concrete machines can generally construct these common materials. The finished concrete has a density of usually 300 to 700 kg/m3 and a compressive strength of 0.3 to 2.0 MPa. For high-strength backfilled foam concrete, the compressive strength should be high, as much as 8.0 MPa.
The density of foam concrete construction is proportional to the strength. Foam concrete with a density of 800kg / m3 is generally required to be added to heavy aggregates, such as gravel. Aggregates directly affect the density of foam concrete. But not all sandstone can be added to foam concrete.

Our foam cement plant is mature product, includes many different models, capacity from 5m3/h to 100m3/h, also we provide clc block mould and foaming agent. You can contact us if you are interested.