Customized steel filter press for sale
2018-08-14 15:33:54
Gaodetec DZCR series stainless steel filter press is the advanced equipment developed in the 1980s. It has convenient disassembly and assembly, simple operation and long service life. Each filter is equipped with a pressure indicator and a non-return device, which are popular among users.

This product is widely used in pharmaceutical, biochemical, food and beverage, water treatment, brewing, petroleum, electronic chemical, electroplating, printing and dyeing, environmental protection and other industries. This steel filter press for sale is the latest equipment for filtration, clarification and purification of various liquids.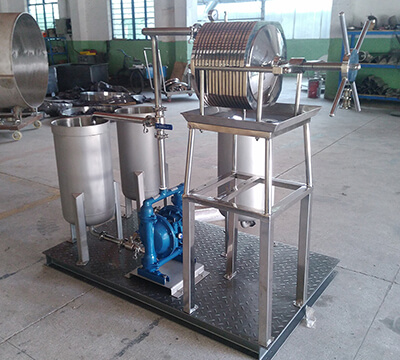 Above is the customized steel filter press for one of our client from Australia. This client want to the material treat is water + zinc precipitate - slurry is dilute. Solid content is 25%, temperature is 40℃, PH value is 8~8.5. He requires to have one tank(30L) and pump for slurry, second tank(30L) to store wash liquid, the third tank(40L) for filtrate water. Whole process is FIRST STAGE _ CLOSE CLAMP_ FILTRATION_SECOND STAGE_PUMP WASH LIQUID_THIRD STAGE_OPEN CLAMP and collect solids. Thus could achieve his requirement: wash the filter cake without opening the filter press. The whole machine, including the three tanks, pneumatic diaphragm pump and pipelines are used high quality SUS304 material, which are features of corrosion –resistant and long life-span.

The filter plates on the machine use screw thread structure. It can change filtering media (if uses filter membrane, it can even remove the bacteria.) according to your material and your technical requirements (primary filtration /medial fine filtration/fine filtration). The layers can be added or decreased to your actual capacity. Like this client, he added another two sets filter plate on the machine. Then the filtering capacity will get larger. Certainly, the main machine frame is also lengthened accordingly.