Energy saving stationary concrete pump trailer for construction
2019-04-09 10:30:22
Stationary concrete pump for construction adopt world-level advanced technologies such as open hydraulic loop, distributing valve auto-compensation clearance, constant power control, all-hydraulic automatic reverse and electric proportional control. The company strictly controls all the machining processes and the assembly quality, giving final test to every trailer pump through simulated working conditions and overload experiments to ensure zero fault in customers' first operation. pumps are concrete transport machines widely used for the construction works in city construction, bridge construction, electric power, but also for the tunnel, underground engineering support lining, the structure of the surface layer of spraying, reinforcement construction. It can achieve long-distance and high-rise delivery for pumping mortar, fine stone concrete and foam concrete. Energy saving stationary concrete pump design is light, easy to move, suitable for small construction projects.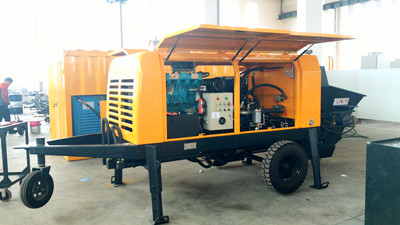 Unique advantages of energy saving concrete pump trailer as follow:
1. With full hydraulic system can extend component life, improve equipment reliability, reduce the failure rate and reduce maintenance costs.
2. The "S" tube valve are cast into shape with austenitic manganese steel and has the dual advantages of anti-high pressure and anti-wearing.
3. The lubrication system adopts progressive distributor which suppliers every lubrication point with oil in turn, and the oiling time can be set to save oil.
4. The glasses plates and cut loops are made of anti-wearing alloy, they have long service life.
5. The main electric elements are from Schneider and LG company, the reliability of the electric control system is highly approved.
As a professional manufacturer of energy saving concrete pump for construction, our target is to serve worldwide clients with high-quality products, great reliability, devoted responsibility, professional services and honorable credibility to meet customers' requirements in all aspects. If need, we will supply you 24 hours a day and 7 days a week after-sale services.