Concrete Grouting Machine Supplier
2017-12-11 11:41:25
Concrete grouting machine is designed for conveying or pumping ready concrete under pressure through the pipeline continuously and it mainly used in building, bridge, tunnel construction etc. Usually concrete grouting machine includes pumping system, hydraulic system, and pipeline etc.
How to find one right concrete grouting machine?
As one leading supplier of concrete grouting machine, we suggest please confirm the following points before decide purchase the concrete grout pump,
Where will you use the concrete grout pump, building? Tunnel? Or other?
What's the max. output and max. pressure do you demands?
What's the max. aggregate size of the concrete material, 15mm? 25mm? or more bigger?
What's the deliver distance do you demands, includes horizontal conveying distance and vertical conveying distance.
What's the voltage at the work site, 3 phase, 380v, 50HZ?
As one famous concrete grouting machine supplier in China, Gaodetec has tens concrete grout pump for option:
According to theory difference, there are hose type concrete grout pump, piston type concrete grout pump, S valve concrete grout pump etc. for option.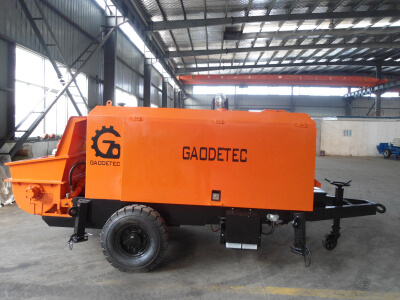 The new type concrete grout pump also could be used for wet shotcrete machine.
According to material max. aggregate and output difference, gaodetec also have different types for option. Please check the link http://www.gaodetec.com/concrete-pump/diesel-portable-and-stationary-concrete-pump.html for more information.
Tell us your detailed demands to +86-15903613994 or email to [email protected] , suitable type and the best price will be offered to you. Please believe Gaodetec is the trust concrete grout pump supplier.